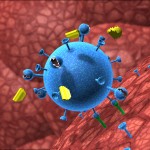 Scientists from Australia's Commonwealth Scientific and Industrial Research Organization (CSIRO) have helped to design a new drug to safeguard against epidemic and pandemic flu strains. The new antiviral agent has been proven to be effective in preventing the spread of different strains of influenza in laboratory models – including resistant strains of the virus. 
Influenza antiviral agents play important roles in modulating disease severity and in controlling pandemics while vaccines are prepared, but the development of resistance to agents like the commonly used neuraminidase inhibitor oseltamivir may limit their future utility. 
The researchers are developing a new class of specific, mechanism-based anti-influenza drug that function via the formation of a stabilized covalent intermediate in the influenza neuraminidase enzyme. In order to infect cells, flu viruses bind onto sugars on the cell surface. To be able to spread they need to remove these sugars. The new drug works by preventing the virus from removing sugars and blocking the virus from infecting more cells. 
"CSIRO researchers have shown that flu viruses continually mutate and some have become resistant to available treatments," said Dr. Jenny McKimm-Breschkin, CSIRO scientist. "The new drug is effective against these resistant strains. As the site where the drug binds is found in all flu strains, the new drug is expected to be effective even against future flu strains." 
Professor Steve Withers, University of British Columbia, has led the research team for the past seven years and said that although further studies are required to determine efficacy against a broader range of flu strains, the findings are extremely positive. 
"This antiviral drug would play an important role as the first line of defense in modulating disease severity and in controlling a pandemic while vaccines are prepared," said Withers. 
The breakthrough is the result of a collaboration between scientists from CSIRO, the University of British Columbia and the University of Bath. Read more at Science: Mechanism-based Covalent Neuraminidase Inhibitors with Broad Spectrum Influenza Antiviral Activity. 
Sources: CSIRO, Science. Image credit: Magpix.