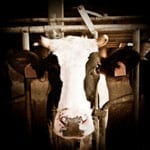 The Department of Homeland Security continues work to develop an improved vaccine for foot-and-mouth disease (FMD) virus, one of the world's most contagious animal diseases.  
The Science and Technology Acquisition Division of DHS this week announced plans to award a sole source contract for the production of an experimental foot-and-mouth vaccine to ApoVax, Inc., of Louisville, Kentucky. 
The contract is for the production of research lots of ApoVax 104-FMD, building on work previously completed by the company. As such, ApoVax is the only source working with the required cloned gene and purified recombinant protein necessary to further support the vaccine development.
"The goal of this Sole Source Contract is to use ApoVax's lead adjuvant technology to design a novel foot-and-mouth-disease (FMD) vaccine.  The approach will use a subunit vaccine consisting of ApoVax104 and the FMD virus capsid proteins VP1, VP2, and VP3 recombinantly manufactured," states the announcement. "In conjunction with the Plum Island Animal Disease Center, vaccine efficacy will be tested by assessing its prophylactic efficacy against the FMD in a bovine model." 
Vaccines already exist for FMD but require refrigeration and multiple boosters, a somewhat impractical logistical burden in some areas. More importantly, these vaccines are of limited use because veterinarians cannot distinguish vaccinated animals from infected animals. Both will currently test positive for FMD. 
The ApoVax 104 vaccine technology was invented at the University of Kentucky. Through a licensing agreement with the University of Kentucky, ApoVax was spun out and founded by the inventor in 2001 to develop the technology. 
The activity is overseen by the DHS Science and Technology Directorate, Chemical and Biological Defense Division (ChemBio), Agro-Defense Branch, Foreign Animal Disease (FAD) Vaccines and Diagnostics Program. The contract value is $516,810 awarded under HSHQDC-13-C-00018.