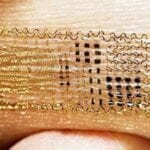 Researchers at the University of Illinois at Urbana-Champaign have devised a way to "print" devices directly onto the skin for extended wear during normal daily activities, paving the way for next-generation health monitoring. 
The printable sensors are an advanced version of a preliminary system developed in 2011 by the same team
, led by Professor John Rogers. While the prior attempt required the tiny grids to be stuck on like a transfer tattoo, the new device is printed straight onto the skin using a rubber stamp.  Commercially available spray-on bandage is then applied to protect the electronics. 
"What we've found is that you don't even need the elastomer backing," says Rogers. "You can use a rubber stamp to just deliver the ultrathin mesh electronics directly to the surface of the skin." 
The sensors last about two weeks, then flake off due to the natural process of skin exfoliation. The researchers say the only way overcome this timeline would be to embed the sensors under the skin like real tattoos.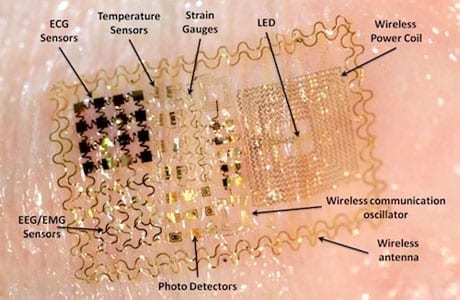 This new class of skin-integrated device can measure things like skin hydration, temperature and electric signals from brain and muscle activity.  Just one of the potential applications of the device would be to monitor wound healing. 
Rogers says his team is now focused on refining wireless power sources and communication systems that could be integrated into the system. 
Images courtesy of Rogers Research Group.