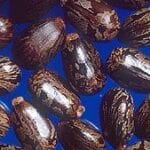 A letter addressed to the office of Sen. Roger Wicker, R-Mississippi was intercepted at the U.S. Capitol's mail facility in Washington D.C. on Tuesday after initial screening tests indicated the envelope contained the deadly ricin toxin.
Representatives from the U.S. Capitol Police say more extensive tests will be conducted at the U.S. Army Medical Research Institute of Infectious Diseases (USAMRIID) biodefense laboratory at Fort Detrick, Maryland.
The Senate sergeant-at-arms stated the letter was postmarked in Memphis and did not contain any suspicious markings. 
Senator Wicker has been assigned additional protection, according to reports from CNN.
Derived from castor beans, ricin is an extremely toxic plant protein that may be fatal in even a small amount. Ricin causes toxicity by inhibiting the synthesis of proteins in the cells of an exposed individual.
Because of the potency of the toxin and the ease of extraction from castor beans, ricin is considered a potential bioterrorism threat and is listed as a NIAID Category B Priority Pathogen. The agent is also listed under the HHS and USDA Select Agents and Toxin List.
Scores of "white powder" letters are sent to U.S. addresses every year. Last year the FBI pursued a single individual believed to be responsible for nearly 400 letters sent containing non-toxic white powder and anti-government and inflammatory rhetoric, in the most extensive white powder mailing case to date. 
While nearly all letters sent are "hoax" letters, the potential threat of real bioterrorism agents as witnessed in the 2001 anthrax letter attacks requires first responders to be called to the scene. Such events all cost money and divert police, HazMat, investigators and laboratory personnel from genuine emergencies.
Read more at CNN: Envelope tests positive for ricin at Washington mail facility