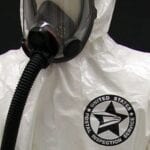 A suspicious letter addressed to President Obama was intercepted at an off-site mail processing facility, a Secret Service spokesperson said Wednesday. The letter arrived on Tuesday, the same day another letter addressed to a U.S. Senator arrived which tested positive for ricin toxin.
Spokesman Edwin Donovan said the letter was received at the Secret Service's White House mail screening facility, which examines all mail for the complex and is not located nearby. The facility, he said, "routinely identifies letters or parcels that require secondary screening or scientific testing before delivery." (Source: Politico)
Postal workers started handling mail at a site separate from Capitol Hill after the 2001 anthrax attacks whose targets included then-Majority Leader Tom Daschle, D-Nebraska, and Sen. Patrick Leahy, D-Vermont.
Both letters are under investigation and the mail-processing facilities are temporarily closed.
Image credit: USPS