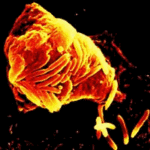 Soligenix, Inc., announced this week it will jointly develop a treatment for Melioidosis, an infectious disease caused by a Gram-negative bacterium, Burkholderia pseudomallei, through a worldwide exclusive collaboration with Intrexon.
Burkholderia pseudomallei and the closely related Burkholderia mallei are considered biodefense NIAID Category B Priority Pathogens.
Endemic to Southeast Asia and Northern Australia, the bacteria are highly resistant to antibiotic treatment regimens and mortality rates from Melioidosis are as high as 40 percent.
Under the collaboration Intrexon will provide discovery, development and optimization of antibody candidates targeting Melioidosis by applying its proprietary platforms and technologies.  Soligenix will undertake preclinical and clinical development, regulatory and government interactions, as well as the commercialization of therapeutic products.
Christopher J. Schaber, PhD, President and Chief Executive Officer of Soligenix, said the collaboration is unique because the goal is to develop a therapy that will treat both a deadly disease currently affecting millions of people as well as fight a potential biological weapon.
"By working with Intrexon we hope to make a potentially life-saving therapy available to patients in endemic regions and include the therapy in the national stockpiling program in case of a biowarfare event," said Schaber.