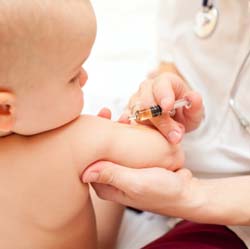 A report released this week by the U.S. Government Accountability Office (GAO) assesses approximately 60 percent of the chemical, biological, radiological, and nuclear (CBRN) medical countermeasures in the Strategic National Stockpile (SNS) are approved for children, but in many instances approval is limited to specific age groups.
High costs and the high risk of failure associated with testing and research of pharmaceutical products on children, difficulties in meeting regulatory requirements for approving CBRN countermeasures, and scientific and ethical obstacles to safely evaluating countermeasures for children are cited as the predominant challenges to developing pediatric countermeasures for the SNS.
Despite these challenges, the Department of Health and Human Services (HHS) has taken steps to focus agency efforts on the pediatric population, who make up 25 percent of the population in the United States, by adapting pediatric formulations from existing medical countermeasures, and preparing for Emergency Use Authorizations of existing drugs in advance of public health emergencies.
The federal government has also encouraged adapting and manufacturing of oral liquid formulations of existing medical countermeasures in order to ease dispensing of countermeasures in the SNS for children. For example, the Biomedical Advanced Research and Development Authority (BARDA) is contracting with industry partners to manufacture a liquid form of a countermeasure that removes certain radioactive particles from the body through the intestinal tract.
The report also cast light on countermeasures that have not technically been approved to treat individuals for the specific indications for which they have been stockpiled. For example, ciprofloxacin is stockpiled in the SNS for the treatment of anthrax, plague, and tularemia, but is not approved for these indications. Countermeasures may be used to treat unapproved age groups or indications under an emergency use authorization (EUA) or an Investigational New Drug (IND) application submitted to the Food and Drug Administration (FDA).
Federal and state-level emergency response planning for dispensing of pediatric medical countermeasures were also examined for the GAO report. Plans for the state and local governments that GAO reviewed included details about dispensing to the pediatric population during an emergency, often having adopted some version of a "head of household" policy that would allow adults to pick up medicines for other family members, including children, during an event.
The full report is available at the GAO website: National Preparedness – Efforts to Address the Medical Needs of Children in a Chemical, Biological, Radiological or Nuclear Incident (.pdf)