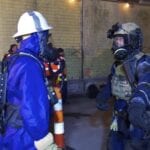 The U.S. Coast Guard intends to establish an Indefinite Delivery/Indefinite Quantity (IDIQ) contract to procure Chemical, Biological, Radiological, and Nuclear Defense (CBRN-D) training for Coast Guard members over a five year contract period.
The required training courses and annual maximum classes include:
Domestic Egress Course – 175
Expeditionary Course – 30
Domestic Response Course – 20
Radiation Detection Level II Course – 20
The USCG intends to award single award IDIQ contract resulting from this solicitation to the responsible offeror whose offer is most advantageous to the government.
Potential offerors must respond by May 28, 2013. Further details are available under Solicitation Number: HSCG23-13-R-QLT003.