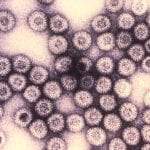 Highly contagious rotaviruses are the leading cause of severe diarrheal illnesses among infants and young children in both developed and resource-limited countries. Each year, rotavirus-induced diarrheal disease kills roughly 435,000 children younger than 5 years old and hospitalizes an estimated two million children worldwide, largely in developing countries.
A research collaboration led by the Program for Appropriate Technology in Health (PATH), Bharat Biotech International, Ltd. and the Government of India's Department of Biotechnology has brought to fruition a significant advance in the fight against rotavirus with a new vaccine called ROTAVAC.
ROTAVAC has recently completed a successful Phase III clinical trial, the results of which were presented this week at the International Symposium on Rotavirus Vaccines for India. ROTAVAC was shown to have an excellent safety and efficacy profile in the randomized, double-blind, placebo-controlled trial of 6,799 enrolled infants in India.
The vaccine originated from an attenuated strain of rotavirus that was isolated from an Indian child at the All India Institute of Medical Sciences in New Delhi in 1985-86. Since then, many other public and private partners have contributed to the vaccine development, including the U.S. National Institute of Allergy and Infectious Diseases (NIAID), the U.S. Centers for Disease Control and Prevention (CDC) and Stanford University School of Medicine.
Based on the study's successful findings, infants in India will gain access to a licensed vaccine and its significant protection against severe rotavirus-induced gastroenteritis.
"We are deeply gratified to have played a role in establishing the safety and efficacy of the ROTAVAC vaccine," said Anthony S. Fauci, M.D., is Director of the National Institute of Allergy and Infectious Diseases. "No infant or child should die as the result of rotavirus-induced severe diarrhea. NIAID is proud to be among the scientific partners who have worked over the past decades to potentially make that affliction a thing of the past for the children of India."
Additional information about the ROTAVAC study is available at ClinicalTrials.gov under the identifier NCT01305109.
Source: National Institute of Allergy and Infectious Diseases (NIAID)