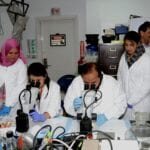 The U.S. Naval Medical Research Unit No. 3 (NAMRU-3) initiated a new project for efficient and sustained control of dengue vectors in Lahore, Pakistan. The emergence of dengue and dengue hemorrhagic fever is considered a major public health threat there.
Under a Department of State-funded project, NAMRU-3 and the University of Veterinary and Animal Sciences (UVAS) in Lahore, Pakistan began a collaborative relationship to establish a vector management lab at its Quality Operations Lab. Once established, prevention efforts will focus on implementation of early disease detection through promoting the core functions of regular vector surveillance, viral diagnosis in vector samples and control programs.
The first phase of this capacity building project began with a visit to UVAS in late 2012 to evaluate the current laboratory and conduct a laboratory risk assessment.
Noha Watany of NAMRU-3's Vector Biology Research Program (VBRP), the lead collaborator on the project, conducted the four-day lab assessment. During the visit, Dr. Tahir Yaqub, director of the Quality Operations Lab at UVAS, allocated one floor for the vector management lab.
Established in 1882, UVAS is one of the oldest veterinary institutions in Asia. Its staff of highly specialized molecular biologists lacked specific training in mosquito identification, habitat, bionomics, general characteristics identification, use of a specific identification key, and how to handle insects for pathogen detection. 
In April, VBRP conducted training geared to meet the identified needs of this project. Yaqub, along with three other researchers, attended the training. "This training specifically addressed the needs of our lab, and even though I am a professor, the way in which the training was presented made it extremely beneficial for all of us," Yaqub said. 
Three additional researchers are scheduled to receive training at NAMRU-3 on biosafety and biosecurity and mosquito identification.
The next phase of the project is providing and installing the needed equipment to set up a vector management laboratory at UVAS and put into practice what the trainees learned at NAMRU-3.
"Supporting the reduction of vectorborne diseases will impact public health, which is critical in achieving regional health security," said NAMRU-3 Commanding Officer Capt. Buhari Oyofo.
Article courtesy of Naval Medical Research Center. Image credit: Rafi George.