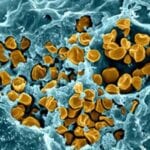 The U.S. Department of Health and Human Services, Biomedical Advanced Research and Development Authority (BARDA) has entered into a collaborative agreement with Glaxo Smith Kline (GSK) to evaluate the efficacy and safety of the company's portfolio of clinical stage antibacterial assets for treating hospital and biothreat infections. 
The contract is unique in that it is the first in which BARDA has taken a portfolio approach to funding drug development with industry.
Under the agreement, GSK will conduct non-clinical and clinical studies, and generate data to support biothreat indications. By mutual consent of GSK and BARDA, preclinical candidates may be included in order to facilitate their progress into the clinical portfolio. 
The government cost share is $40 million for the 18 month agreement and could reach up to a total of $200 million if the agreement is renewed for the full five years. 
The treatment of drug resistant bacterial infections is predicted to become a global crisis due to the scarcity of new antibiotics in the pharmaceutical industry's pipeline and a decrease in investment in research and development.  Many companies have in recent years withdrawn from antibacterial R&D due to the scientific challenges and a lower return on investment, affecting the ability to treat bacterial infections and compromising preparedness for biothreat pathogens.
Consequently, public-private partnership is important to help sustain effort in this area of science. "There is an urgent need to address antibiotic resistance and new models are needed to deal with this challenging area of drug development," said David Payne, head of GSK's Antibacterial Discovery Performance Unit. "We strongly believe that innovative public-private partnerships such as this are integral to solving this critical healthcare issue and we are delighted to work with BARDA in a more strategic way."
The award was made under contract number HHSO100201300011C.