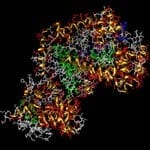 PharmAthene, Inc., a biodefense company developing medical countermeasures against biological and chemical threats, last week announced that the U.S. Food and Drug Administration (FDA) has lifted the clinical hold previously placed on a proposed Phase II study of SparVax, a next generation recombinant anthrax vaccine. 
In a letter to the company, the FDA acknowledged that PharmAthene had satisfactorily addressed all of the Agency's clinical hold issues and that the clinical hold had been lifted, effective immediately. The clinical hold had been enacted in August 2012 and required PharmAthene to provide additional stability data for the vaccine.
"The U.S. government's requirement for a recombinant anthrax vaccine for the civilian Strategic National Stockpile is an important national security imperative that remains unfilled," stated Eric I. Richman, PharmAthene President and Chief Executive Officer.  "Next-generation anthrax vaccines like SparVax, which employ modern vaccine technology, offer the potential for improved convenience, cost-effectiveness, more rapid immunity, and the ability for large scale rapid delivery. We look forward to working in collaboration with BARDA to fulfill this objective."
PharmAthene's anthrax vaccine program has received funding from the National Institute of Allergy and Infectious Disease, National Institutes of Health and the Biomedical Advanced Research and Development Authority.
Source: PharmAthene