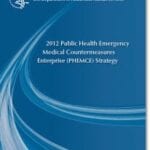 The National Biodefense Science Board (NBSB) will be holding a public meeting via teleconference on June 25, 2013. The meeting will be dedicated to vote on community resilience and the Public Health Emergency Medical Countermeasures Enterprise strategic end states tasks requests from the Office of the Assistant Secretary for Preparedness and Response (ASPR).
Background
Community resilience is defined as the sustained ability of communities to withstand and recover from adversity. Enhanced resilience is considered critical to mitigating vulnerabilities, reducing negative health consequences, and rapidly restoring community functioning after emergency events. Recent research suggests that social connectedness can be central to the ability of a community to withstand disaster and rebuild both the infrastructure and the societal ties that are at the foundation of any community. 
The ASPR would like the NBSB to provide actionable recommendations to U.S. Department of Health and Human Services (HHS) on how the Department can build and help sustain community health resilience. 
The 2012 Public Health Emergency Medical Countermeasures Enterprise (PHEMCE) Implementation Plan (.pdf) states that the Office of the ASPR, by the end of fiscal year 2013, will lead PHEMCE agencies in defining Strategic End States for all PHEMCE capabilities, based on a clear description of the preparedness goals for addressing particular threats and medical countermeasure needs. 
Although the PHEMCE Implementation Plan has stated goals and objectives for preparedness, the identification of the gaps between these goals and objectives and what can actually be addressed due to finite resources must be considered. So while the perfect end state equals mitigating against all threats, this is not a likely reality. The ASPR is contemplating methodologies to achieve a suitable balance across these diverse needs, i.e., an adequate answer to what is an acceptable level of preparedness in light of constraints. Additionally, the ASPR would like to determine how to best communicate levels of preparedness in a way the public could comprehend.
###
Members of the public are invited to attend by teleconference via a toll-free call-in phone number.  Individuals who wish to participate should send an email to NBSB@HHS.GOV with "NBSB Registration" in the subject line. The meeting will occur by teleconference. To attend, call 1-888-455-0056, and enter passcode 9790185.
Source: Federal Register