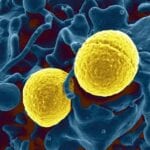 Duke University has been awarded $2 million to initiate a new clinical research network focused on antibacterial resistance, with funding provided by the National Institute of Allergy and Infectious Diseases (NIAID), part of the National Institutes of Health (NIH). Total funding for the leadership group cooperative agreement award could reach up to $62 million through 2019.
Infections with bacteria resistant to antibiotic drugs were first reported more than 60 years ago. Since then, infections with resistant bacteria have become more common in health care and community settings, and many bacteria have become resistant to more than one type or class of antibiotics. As a result, medical professionals must treat infections with limited treatment options or, in some cases, when no effective antibiotics exist.
"Antibacterial resistance is a serious and growing public health threat that is endangering the global medical community's ability to effectively treat conditions ranging from simple skin infections to tuberculosis," said NIAID Director Anthony S. Fauci, M.D. "Through this new clinical research network, we will strengthen our existing research capacity and address the most pressing scientific priorities related to antibacterial resistance."
Co-led by principal investigators Vance Fowler, M.D., of Duke University, and Henry Chambers, M.D., of the University of California, San Francisco, the leadership group will design, implement and manage the network's clinical research agenda. In addition to the two principal investigators, the leadership group will include a consortium of more than 20 investigators nationwide with experience in diverse areas related to antibacterial resistance. The scientific efforts the leadership group is expected to undertake include:
-Conducting early-stage clinical evaluation of new antibacterial drugs
-Performing clinical trials to optimize currently licensed antibacterial drugs to reduce the risk of resistance
-Testing diagnostics
-Examining best practices in infection control programs to prevent the development and spread of resistant infections
An operations center at Duke University will anchor the network and provide administrative and technical support, a laboratory center, and a statistics and data management center. The network will address the priority areas identified in its clinical research agenda using existing NIAID clinical trials infrastructure, including the clinical trial units that support NIAID's HIV/AIDS clinical trials networks and Vaccine and Treatment Evaluation Units.
Planning for the development of the new NIAID clinical trials network on antibacterial resistance began in 2010 in connection with a larger effort to restructure NIAID's HIV/AIDS clinical trials networks. NIAID conducted extensive consultations with infectious disease researchers, clinicians, nurses, and patient advocates in moving forward with the concept. This award will complement NIAID's extensive antimicrobial resistance portfolio, which includes clinical research and product development, as well as clinical trials evaluating optimal utilization strategies for currently available antibacterial drugs.
Source: Adapted from the National Institutes of Health