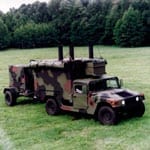 The Joint Program Executive Office for Chemical and Biological Defense (JPEO-CBD) is conducting market research to determine potential sources to provide Contractor Logistics Support (CLS) services for highly complex, low-density Chemical, Biological, Radiological, Nuclear, and High Yield Explosives (CBRNE) military systems.
Detection, mounted and dismounted reconnaissance, individual and collective protection, decontamination, and force protection systems covered under this support contract include, but are not limited to:
Joint Biological Point Detection System (JBPDS)
Biological Integrated Detection System (BIDS)
Joint Biological Standoff Detection System (JBSDS)
Joint Portal Shield (JPS)
Joint Nuclear Biological Chemical Reconnaissance System Increment 2 (JNBCRS2)
Advanced Threat – Dismounted Reconnaissance System (AT-DRS)
Dismounted Reconnaissance Sets, Kits and Outfits (DR SKO)
Non-Intrusive Inspection Systems (NIIS)
Entry Control Points (ECP)
Joint Service Lightweight Standoff Chemical Agent Detector (JSLSCAD)
Chemical Biological Mass Spectrometer II (CBMS)
Nuclear, Biological, Chemical Reconnaissance Vehicle (NBCRV)
Nuclear, Biological, Chemical Sensor Processing Group (SPG)
Chemical Vapor Sampling System (CVSS)
The contractor shall be responsible for maintaining system operational readiness at all locations, to include military installations, worldwide. Five primary support areas required to perform the mission include: activities to effect movement of equipment within and outside theaters of operation; Operational and Field Support; Training and Help Desk Support; Test and Evaluation; and Program Management and Transition. 
The estimated period of performance for the contractual effort is 60 months from date of award.  Further details are available under Solicitation Number: W911SR-13-JECL.