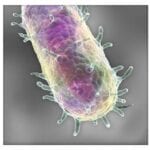 The Saint Louis University School of Medicine is enrolling volunteers for an initial safety and tolerability study of a vaccine for Plague; an infectious disease of animals and humans caused the bacteria Yersinia pestis.  
Like smallpox, plague bacteria have long been considered a potential bioterrorism threat. Pneumonic or inhaled plague is highly lethal if not treated within 18 hours of the onset of symptoms. Currently, there is no effective licensed vaccine that protects against pneumonic plague. 
In view of the seriousness of infection with Y. pestis, a substantial effort has been focused on the development of protective vaccines. The purpose of this study is to look at the safety and tolerability of an experimental vaccine that has not previously been given to humans.
SLU's Center for Vaccine Development is enrolling healthy participants from 18 to 45 years of age. The Center notes that you cannot get infection of plague from the vaccine. Study participants will be monitored to assess tolerability and human immune response.
Read more: Saint Louis University Center for Vaccine Development