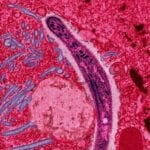 Case Western Reserve University has granted a two-year technology transfer option to a research spinoff company developing a hand-held device that diagnoses malaria more quickly, simply and affordably than existing methods.
Disease Diagnostic Group LLC, (DDG) the startup formed last summer from biomedical engineering research at the university's School of Engineering, also raised $250,000 to "field-test" the device this fall in Peru. These research dollars have come from various sources, including the Coulter Foundation. The Case Coulter Translation Research Partnership provides research dollars primary focused on clinical translation for medical devices. 
The option from the university's Technology Transfer Office allows the company time to evaluate its Rapid Assessment of Malaria (RAM) device as an important pre-licensing step toward commercialization.
"They will be employing a working prototype to conduct field studies this fall to validate their design and ease of operation," said Wayne Hawthorne, the university's senior licensing manager. "There is a big push worldwide to eradicate infectious diseases, such as malaria."
DDG's product detects a magnetic substance that malaria parasites release when digesting red blood cells. RAM's creators can provide a faster and more accurate diagnostic test than methods now commonly used. The device is designed to detect the disease in less than a minute using a drop of blood from a patient's fingertip.
Brian Grimberg, assistant professor of international health and DDG's co-founder, president and chief medical officer, said early diagnosis is vital in reducing malaria deaths because early treatment is nearly 100 percent effective. However, half of the estimated 500 million annual infections worldwide go undiagnosed, according to the World Health Organization. 
Potential RAM customers, including the U.S. military, could use the device in areas with limited medical access, often in remote, disease-prone areas, Grimberg said.
"We think we have an opportunity to make a difference in millions of lives," said Grimberg, part of Case Western Reserve School of Medicine's Center for Global Health and Diseases. "We may be able to license the technology in about a year. What we have to do is take this device into the field for point-of-care diagnosis. We have to show that it works, so that we can seek World Health Organization approval."
"This project is an excellent example of the way in which translational research at CWRU can make a difference in patient care," said Colin Drummond, director of the Coulter-Case Translational Research partnership within the Department of Biomedical Engineering. "It has taken years of hard work by Dr. Grimberg for this technology to reach the point where it was positioned to be translated into the market. It has been rewarding for the Coulter program to play a part in the translational phase of the project."
John R. Lewandowski, a recent Case Western Reserve engineering and management graduate, is DDG's co-founder and chief executive officer. His brother, Mark Lewandowski, a sophomore computer science and accounting student at the university, is DDG's chief financial officer.
The university's Technology Transfer Office, which supports faculty and student intellectual property and commercialization, has guided DDG to an innovation network, including such organizations as BioEnterprise and JumpStart.
Working with the Center for Global Health and Diseases and the Department of Infectious Diseases and HIV Medicine, Case Western Reserve is committed to licensing its medical discoveries, such as the RAM device, in ways that promote access and affordability in developing countries. As a result, the Universities Allied for Essential Medicines recently ranked Case Western Reserve the No. 1 Global Health research university in the United States. 
Source: Case Western Reserve University