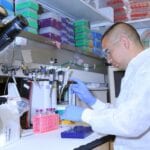 Researchers from the Naval Medical Research Center (NMRC) partnered with other federal and industry partners to publish the results of a successful clinical trial of a new malaria vaccine Aug. 8.
NMRC researchers played a key role in the design of the study, particularly in testing the efficacy of the vaccine by exposure to infectious mosquitoes and in the volunteer follow-up. 
"The work done by researchers at the Naval Medical Research Center and their colleagues represents a big step forward for malaria vaccine research," said Vice Adm. Matthew L. Nathan, Navy Surgeon General and chief, Bureau of Medicine and Surgery. "Navy Medicine researchers began working on this vaccine in the early 1970's with unwavering commitment. Their efforts have been instrumental to this study." 
This is the first time that 100 percent protective efficacy has been achieved in any clinical trial testing a candidate malaria vaccine. 
"Our NMRC researchers are dedicated to conducting medical research to enhance deployment readiness of DoD personnel worldwide and to protect our warfighters in harm's way," said Nathan.
The vaccine used in this clinical trial was given at varied doses by intravenous injection to 40 volunteers from October 2011 to October 2012. 
Three weeks after the final immunization, volunteers were exposed to the bites of five mosquitoes carrying infectious Plasmodium falciparum malaria. At the highest vaccine dose, six of nine volunteers receiving four doses and six of six volunteers receiving five doses were protected against malaria infection.
"This is a historical moment in malaria vaccine research development," said Capt. Judith E. Epstein, the NMRC lead investigator on this trial. "For the first time, we and our collaborators have a malaria vaccine approach which has demonstrated the high-level vaccine efficacy required to protect our troops. As the leader of the NMRC effort to bring this vaccine strategy to licensure, I see the U.S. Navy paving the way to a vaccine which can be used within the next three to four years for military personnel and for the millions of individuals suffering and dying from malaria worldwide."
Malaria has had a significant impact on U.S. military operations throughout history. It was responsible for a greater loss of manpower than enemy fire in all conflicts occurring in tropical regions during the 20th century.
Malaria continues to present a major challenge to force health protection during operations in any environment where malaria is endemic. This includes over 100 countries spanning the tropical and subtropical regions of the world, including most of sub-Saharan Africa and larger regions of South Asia, Southeast Asia, Oceania, central Asia, the Middle East, Central and South America and the Caribbean. 
"We need an effective vaccine against malaria, which has been a constant threat to military personnel," said Nathan. "Our naval forces may be deployed on short notice to regions where malaria presents a leading infectious disease threat to mission success. In our military population, malaria infection can severely degrade performance, result in missed duty, may require prolonged hospitalization and, in some cases, result in death. The news that NMRC researchers have participated in the first trial which demonstrates 100 percent protective efficacy of a candidate vaccine for malaria brings new hope that a malaria vaccine may become available for military personnel deployed abroad. I look forward to the next developments in this ground-breaking research."
NMRC collaborated with federal researchers from the Vaccine Research Center Clinical Trials Core at the National Institutes of Health Clinical Center and the Walter Reed Army Institute (WRAIR) of Research and the vaccine developer, Sanaria, Inc., Rockville, Md. NMRC participated in the development the protocol, provided malaria microscopists and slide-reading assistance, performed cellular assays, and assisted with the care of volunteers during the impatient post-challenge stay.
Source: Naval Medical Research Center Public Affairs
Read the study at Science: Protection Against Malaria by Intravenous Immunization with a Nonreplicating Sporozoite Vaccine