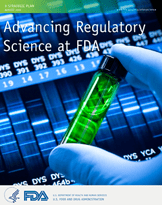 The U.S. Food and Drug Administration (FDA) is soliciting proposals for advanced research and development to support regulatory science. The purpose of the Broad Agency Announcement (BAA) is to utilize industry capabilities to advance the state of the art and achieve improvements in technology, materials, processes, methods, devices, or techniques important to the FDA mission.
Highlighted topic areas include:
Development of Medical Countermeasures to Protect Against Threats
Modernize Toxicology to Enhance Product Safety
Identify and Evaluate Biomarkers for Use in Non-Clinical and Clinical Evaluations
Stimulate Innovation in Clinical Evaluations and Personalized Medicine
Reduce Risk of Microbial Contamination of Products
Support New Approaches to Improve Product Manufacturing and Quality
Ensure FDA Readiness to Evaluate Innovative Emerging Technologies
Harness Diverse Data through Information Sciences to Improve Health Outcomes
Implement a New Prevention-Focused Food Safety System to Protect Public Health
Strengthening Social and Behavioral Science at FDA
Strengthening the Global Product Safety Net
The BAA was originally announced in May 2013 with a one year window for proposal submission. The FDA has recently amended the solicitation to add the following topics of interest:
Studies to increase the safety of post approval drug use
Develop innovative methods to better understand and reduce the occurrence of adverse events in post market use of drugs. Examples include but are not limited to: hypoglycemia in certain patient populations; serious bleeding in patients on anticoagulants; and patients in chronic pain on opioid therapy. Approaches could include the use of innovative messaging strategies, electronic health records, mobile technologies, clinical studies, or educational campaigns.
Improve scientific approaches to evaluate generic drugs
In July 2012, Congress passed the Generic Drug User Fee Amendments (Title III of the Food and Drug Administration Safety and Innovation Act). The Generic Drug User Fee Amendments (GDUFA) is designed to enhance public access to safe, high-quality generic drugs, and to reduce costs to industry. To support this goal, FDA agreed in the GDUFA commitment letter to consult with industry and the public in order to create an annual list of regulatory science initiatives specific to research on generic drugs for each year covered by GDUFA. The research activities related to the FY 2014 topic areas are as follows:
Develop surveillance and monitoring methods for generic drugs.
Understand patient perceptions of generic drug quality and effectiveness.
Evaluate and verify therapeutic equivalence via brand to generic switching studies in patients for anti-epileptic drugs, immunosuppressant drugs, bupropion, ADHD drugs and cardiovascular drugs.
Further details are available under Solicitation Number: FDA BAA-13-00119.