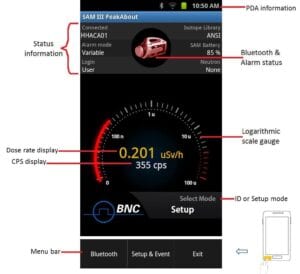 Berkeley Nucleonics has launched a new Smartphone App called "PeakAbout" that allows management of their Radiation Isotope Identifier systems from a safe distance. The app controls both Backpack and Handheld radiation isotope identification devices (RIIDs) and gives users the ability to move away from the detector to perform analysis at a distance.
With PeakAbout's Broadcast functions, users now also have the ability to stream what they are seeing on the screen back to their management or a reachback team. The Android app uses the smartphone's data plan or WiFi connection to transmit the screen details in real time.
Streaming the screen of an Isotope Identifier has long been in demand for both operational activities and user training. The new capability allows a class full of new users to watch what is on the screen of a single detection system in real time, which improved the efficiency and quality of training.
Source: Berkeley Nucleonics, adapted.
Image: PeakAbout Smartphone App for New SAM 945 Isotope Identifier.