A group of seasoned U.S. Army civilians are often called to respond on short notice when suspected recovered chemical warfare material is recovered anywhere around the globe.
The Chemical, Biological, Radiological, Nuclear, Explosives (CBRNE) Analytical and Remediation Activity (also known as CARA) have two remediation response sections: CARA-East based on Aberdeen Proving Ground and CARA-West on Redstone Arsenal in Alabama. During recent missions in Arizona, Delaware, New Jersey, Hawaii and the U.S. Army Pacific area of responsibility, CARA teams have identified and removed potential chemical munitions or materiel, protecting life, property and the environment by removing these hazardous materials.
An all U.S. Army civilian organization, CARA is home to many retired service members and veterans who leverage a vast amount of experience in CBRN, explosive ordnance disposal and laboratory operations to conduct emergency response missions for Recovered Chemical Warfare Material, technical escort of surety and non-surety chemical material and mobile laboratory operations.
On a 10-day remediation operation, a team of 12 civilians from CARA-West safely packaged, assessed and removed a 75mm chemical round from a training range. The team leader was Jeffrey F. Williams, a 21-year retired U.S. Army 1st sergeant from Choctaw, Oklahoma.
The team included Shane L. Pollard from Columbia, Kentucky; Michael R. Randolph from Ardmore, Oklahoma; Bruce A. Peter from Dubuque, Iowa; Walter H. Oldenburg from Chicago; Keith C. Smith from Baltimore; Wende J. Thornton from Canton, Texas; Donny Jennings from Sheridan, Arkansas; Kevin M. Hanuszczak from Kaneohe, Hawaii; Wayne Purdue from Irvine, Kentucky; Timothy M. Crews from Pine Bluff, Arkansas; and Steven J. Wade from Salt Lake City.
"CARA is a very distinct organization that brings vast capabilities in support of the warfighters and in protecting our citizens on the home front" said Amann, a Spartanburg, South Carolina, native and retired U.S. Army Chemical Corps officer. "The CARA team personifies the Army Values every day by serving our nation with distinction while safeguarding lives, the environment and property from recovered chemical material."
This team brought 106 years of collective military experience to the mission with members who have served in the U.S. Army, U.S. Air Force and U.S. Navy.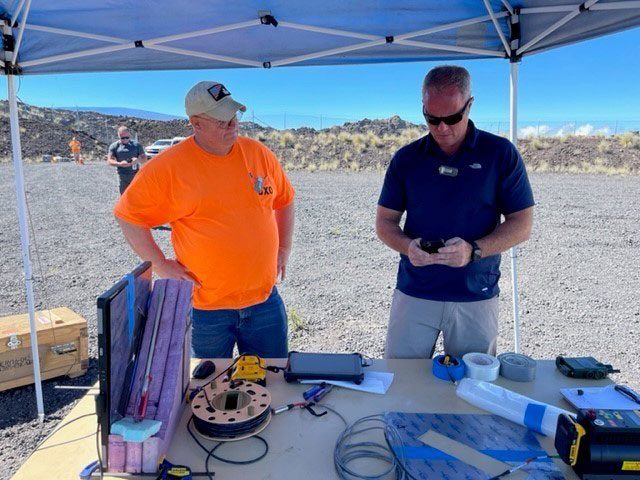 CARA Remediation Response-East took on another project. CARA-East is led by Bruce K. Griffin, a New York City native and retired Army Chemical Corps sergeant major with almost 25 years of service in uniform.
Leveraging 109 years of collective experience for the mission were Ryan P. O'Connell from Laconia, New Hampshire; Trevor Donnatien from Tacoma, Washington; Charles L. Maddox from Frankfurt, Germany; Gerald M. Godwin from Wilmington, Delaware; Shannon J. Platt from Rocky Ford, Colorado; Michael H. Murkens from Franklin, Pennsylvania; James R. Rouse from Kinston, North Carolina; and Pedro D. Johnson from Birmingham, Alabama.
The seasoned team of eight CARA-East personnel and two CARA aviators deployed to assess and package two 81mm mortar projectiles at a former ordnance depot.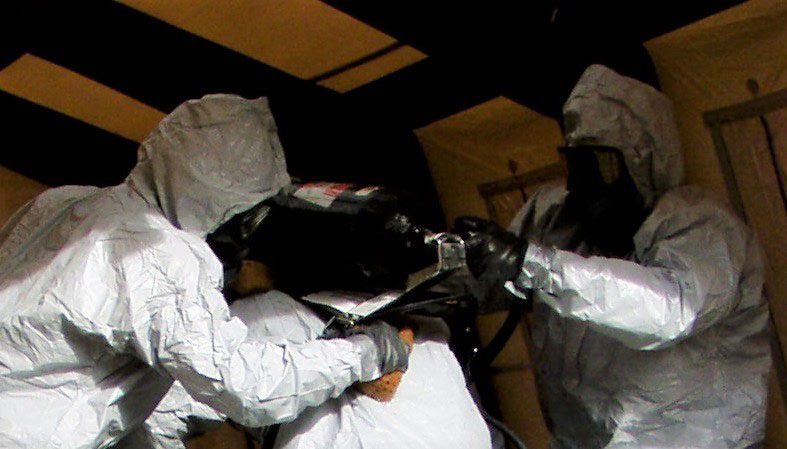 In addition to packaging and assessing potential chemical weapons, CARA teams conduct clearance, sweep and removal operations for unexploded ordnance hazards and munitions.
With mobile expeditionary laboratories, CARA provides theater-level validation of chemical and biological warfare agents, toxic industrial chemicals and explosives to support operations. These distinct laboratory capabilities are designated to support the combatant commanders or joint task force commanders when called upon to deploy into their area of operations.
Adapted from 20th CBRNE Command