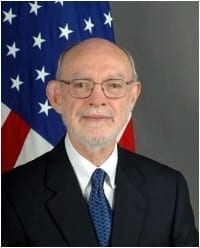 MRIGlobal today announced that Robert Mikulak, Ph.D., U.S. Ambassador to the Organization for the Prohibition of Chemical Weapons, will be recognized with the MRIGlobal Board of Directors and Trustees 2014 Citation Award.
The award is presented annually to an individual who exemplifies leadership in science, business, academia, or the humanities.
The award will be presented to Ambassador Mikulak at the MRIGlobal Annual Dinner, which will be held October 14.
Ambassador Mikulak has dedicated more than 40 years of personal and professional leadership to the global reduction and prohibition of chemical and biological weapons.
In 2010, the U.S. Senate named Dr. Mikulak as the U.S. Permanent Representative to the Organization for the Prohibition of Chemical Weapons. His work focuses on making the world safer and building international controls to prevent chemical weapons threats. Most recently, Ambassador Mikulak has played a key role in the unprecedented international effort to require Syria to eliminate its entire chemical weapons program.
The Organization for the Prohibition of Chemical Weapons, which is located in The Hague, Netherlands, received the 2013 Nobel Peace Prize for its "extensive efforts to eliminate chemical weapons." The organization announced on June 23, 2014, the removal of the last remaining chemical stockpile from Syria, one key step in ensuring that Syria no longer poses a chemical weapons threat.
"At MRIGlobal, we have been privileged to contribute research that supports our Nation's work to eliminate the threat of chemical weapons," said Thomas M. Sack, Ph.D., President and Chief Executive Officer.
"We strongly support a goal of nonproliferation of chemical and biological weapons and we recognize Ambassador Mikulak's life-long commitment and leadership toward an international policy to rid the world of chemical weapons."
Prior to his appointment as Ambassador, Dr. Mikulak was the Director of the Office of Chemical and Biological Weapons Affairs in the U.S. Department of State. In this position, he led the development of policy relating to prohibition of chemical and biological weapons, including negotiation and implementation of international agreements.
Earlier, from 1993 to 1996, Dr. Mikulak served as the Deputy Head of the United States Delegation to the Chemical Weapons Convention Preparatory Commission in The Hague, Netherlands. Before this, he served in the United States Arms Control and Disarmament Agency for 22 years, holding a series of increasingly responsible positions related to prohibition of chemical and biological weapons.
He was a senior U.S. negotiator during the U.S.-Soviet negotiations of 1989 and 1990, which led to reduction agreements and the multilateral 1992 Chemical Weapons Convention, which bans chemical weapons globally.
Ambassador Mikulak holds undergraduate and graduate degrees in chemistry.
MRIGlobal, a not-for-profit research and development organization, delivers solutions in global health, national security and defense, and energy and the environment. The organization performs scientific research, advanced engineering, and program integration and management for clients in government, industry, and academia. Established in 1944 as Midwest Research Institute, MRIGlobal is based in Kansas City, Mo., operates in nine states and Washington, D.C. MRIGlobal employs more than 500 and manages 2,600-plus workers through management and operations programs with government clients.
Source: MRIGlobal, adapted.