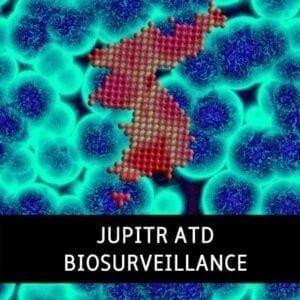 PositiveID Corporation this week announced its highlights for the third quarter which include shipment of its M-BAND system to the Korean peninsula and Aberdeen Proving Ground for continued testing as part of the JUPITR program.
JUPITR is the Joint United States Forces Korea Portal and Integrated Threat Recognition system which will address the demand for stronger biosurveillance capabilities on the Korean Peninsula.
PositiveID reported revenue of $325,000 for the quarter ended September 30, 2014, and $745,000 for the nine months ended September 30, 2014 from their DoD subcontract to support the JUPITR program.
The company increased its 2014/2015 revenue and backlog (backlog added to revenue recognized) estimate to $3.6 million, and reiterated its revenue guidance of $4-10 million through the end of 2015 (2014 and 2015 combined).
In addition to progress with JUPITR testing, the company announced the acceleration of its Firefly Dx prototype development and engagement of Infinite Vision, an engineering development and contract manufacturing firm specializing in medical and biotech products.
PositiveID has already landed two U.S. government agreements related to Firefly Dx, a RT-PCR pathogen detection system. In October, PositiveID and its partner ENSCO were awarded a SenseNet Program contract from the US. Department of the Interior on behalf of the U.S. Department of Homeland Security to implement faster, less-expensive bio-threat detection systems, using existing infrastructure, where possible, to provide an added level of security.
Earlier this month, PositiveID announced it signed a CRADA agreement with U.S. Special Operations Command (USSOCOM) Special Operations Research, Development, & Acquisition Center, Science & Technology Directorate, to further develop Firefly Dx for use across the USSOCOM mission space.
"I am very pleased to report again that we generated revenue in the quarter and, more notably, to remind our investors of the significant progress we have made in 2014 to achieve the goals we set for ourselves related to both M-BAND and Firefly Dx," said William J. Caragol, Chairman and CEO of PositiveID. "We are proud of the agreements we have entered into with world-class commercial and government partners, and their implicit validation of our technology and team. We believe that our accomplishments to date position us well for continued success through the end of 2014 and into 2015."