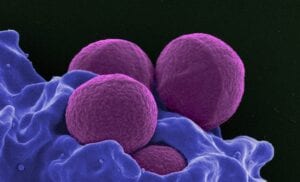 Researchers have found a potential drug to fight the evolving antibiotic crisis, buried just underfoot in the soil in Maine.
Named teixobactin, the promising target was discovered by a team led by Kim Lewis of Northeastern University, and has proven effective at killing methicillin-resistant Staphylococcus aureus (MRSA) and Mycobacterium tuberculosis in mice, and a host of other pathogens in cell cultures.
Soil-based bacteria are historically under-researched, as they are extremely difficult to culture in a laboratory. So scientists led by Kim Lewis of Northeastern University in Boston developed a way to culture bacteria in their natural environment.
The team created a device which enables 'unculturable' microbes to thrive by separating soil microbes into chambers which are sandwiched by semi-permeable membranes and reburied in soil. The membranes allow the microbes to have continued interaction with their complex natural environment, enabling production of larger bacterial colonies for research.
Both the soil-culturing device itself and the potential antibiotics it has already helped find are exciting breakthroughs. The culturing device has unlocked a pathway to further exploration of soil-bacterium for drug targets. And while the results are in early models, teixobactin in particular shows promise because of indicators that it will be difficult for pathogens to develop resistance against it.
Read more on this story at Nature: Promising Antibiotic Discovered in Microbial 'Dark Matter'