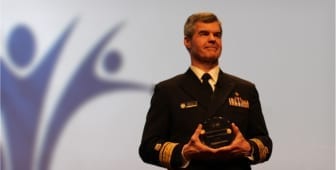 The Centers for Disease Control and Prevention (CDC) Office of Public Health Preparedness and Response (OPHPR) has a new director, Rear Admiral Stephen C. Redd, MD.
Dr. Redd is a Rear Admiral and Assistant to the Surgeon General in the United States Public Health Service, and has worked at CDC for nearly 30 years and served for 29 years in the U.S. Public Health Service Commissioned Corps.
Dr. Redd's prior assignment was with the CDC's Influenza Coordination Division.
In his new role, Dr. Redd will be leading OPHPR, which is CDC's principle coordinator of all preparedness and response activities. PHPR provides strategic direction, support, and coordination for activities across CDC and with local, state, tribal, national, territorial, and international public health partners.
Dr. Redd joins PHPR at a critical time. CDC is running its largest international emergency response ever – the West Africa Ebola Response – as well as CDC's global polio response.  Dr. Redd is no stranger to emergency response. He served as the CDC Incident Commander during the H1N1 response.
"Even though I have worked with PHPR for many years as director of the Influenza Coordination Division and even served as Acting Deputy Director for 3 months last year, I am still surprised with the speed and variety of work that gets done within PHPR," said Redd.
In talking about his focus areas as the new head of OPHPR, Redd stated that the most urgent priority is to get to zero Ebola cases in West Africa.
"My second priority is measuring the impact of our programs and developing measures to assess our preparedness," said Redd. "This type of assessment is critical as we chart our way forward and prioritize resources."
Read more at the CDC: Introducing CDC's New Director of Public Health Preparedness and Response.