Following the World Health Organization declaring an international emergency and Florida Gov. Rick Scott calling a state health emergency, Hurlburt Field, home of the Air Force Special Operations Command (AFSOC) headquarters, is taking action to protect Airmen and their families from the Zika virus.
The 1st Special Operations Medical Group began implementing precautions to fight the spread of the Zika virus at Hurlburt Field.
"The first thing we do is capture mosquitos," said 1st Lt. Claude Betene, chief of public health operations in the medical group. "We then send them to a lab at Wright-Patterson (Air Force Base, Ohio), where they identify the species of mosquito."
This identification helps give epidemiologists an idea of the potential for the spread of the virus.
In addition to identifying the mosquitos, Hurlburt Field Public Health is making education of the Zika virus a priority. These steps include a pre-deployment briefing on how to protect against infection and a post-deployment screening of members returning from infected countries.
"We prepared a presentation for our deploying Airmen coming through public health, to inform them what Zika virus is and what they can do to protect themselves," Betene said.
The Zika virus itself has received little attention since its identification in monkeys in Uganda in 1947, according to the WHO's website. The lack of attention is due in part to the mild symptoms experienced by those exposed to the virus and its isolated influence; however, a potential link to the birth defect microcephaly has been identified, causing the WHO and other national health organizations to take notice.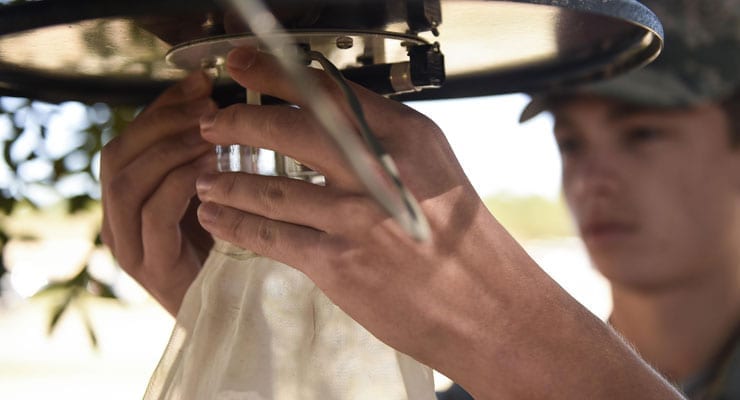 "The virus' suspected link to child birth defects is the main concern," Betene said. "The virus itself is a very mild illness and doesn't necessarily affect patients."
Betene advised that women who are pregnant, or planning to become pregnant, should practice strict mosquito protection and avoid travel to countries affected by the virus. Personal mosquito protection includes wearing long-sleeve shirts, applying mosquito repellent and getting rid of stagnant water around the house.
Following a reported case of Zika being transmitted sexually in Texas, it is advised to wear a condom during sexual activity for at least two weeks after visiting a Zika-affected area.
Article adapted from original by Kai White, 1st Special Operations Wing Public Affairs, edited for context and format.