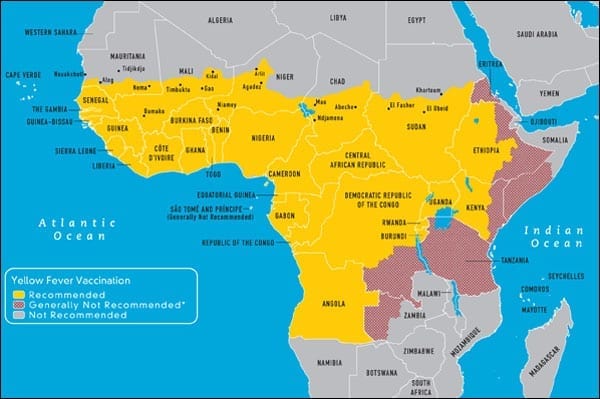 More than 450 people have been infected by yellow fever, and killed 178, in the first epidemic of the disease to hit Angola in 30 years.
The outbreak, which was first reported in the capital city Luanda in December 2015, has since spread to 6 of the country's 18 provinces, according to the World Health Organization (WHO).
Yellow fever virus is transmitted by infected mosquitoes, the most common species being Aedes aegypti. Symptoms include fever, headache, muscle pain, nausea, vomiting, and fatigue. A small percentage of infected people experience a second more severe phase of illness which includes high fever, jaundice and internal bleeding. At least half of severely affected patients who don't receive treatment die within 10 to 14 days.
"Such outbreaks usually occur in tropical rainforests," explains Dr. Sergio Yactayo, expert on epidemic diseases at WHO. "With the majority of cases reported in the capital city Luanda, the situation is more dangerous and difficult to contain because the disease can spread easily from one person to another. We are already seeing cases spread to a number of provinces outside Luanda."
Vaccine Shortage
While concerted efforts are being made to stop the outbreak, a global yellow fever vaccine shortage adds to the challenge.  As of 24 March 2016, WHO and partners have vaccinated 5.7 million people in Luanda against yellow fever using vaccines from the International Coordination Group emergency stockpile; however, this emergency stockpile is now depleted and an additional1.5 million doses are needed to vaccinate the population at risk in Luanda province alone.
"The vaccination campaign has so far been effective. We are seeing case numbers dropping considerably, especially in Luanda. However, we have to keep going and vaccinate all the people in Luanda and the affected provinces to end this outbreak. This is an enormous job which is exhausting supplies of vaccines," says Dr Yactayo.
With the spread of the outbreak to other provinces in Angola and increasing numbers of imported cases reported by countries in Africa, WHO is in discussion with manufacturers and partners to divert shipments of vaccines for national routine immunization programs until the emergency stockpile is replenished.
Source: WHO update, adapted.