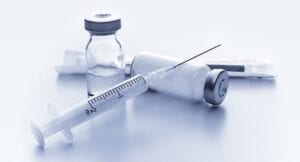 The National Institute of Allergy and Infectious Diseases (NIAID), part of the National Institutes of Health, has awarded six grants totaling $3.1 million to researchers exploring the molecular mechanisms behind combination vaccine adjuvants.
Currently, only a limited number of adjuvants are used as vaccine components in the United States. Many current vaccines, or those in development, induce a suboptimal immune response and require large antigen doses, multiple immunizations, or periodic boosting to provide long-term protection. The use of adjuvants in vaccines can enhance vaccine efficacy, promote dose sparing, and may contribute to more rapid and durable immune protection against pathogens.
There is already some evidence that the simultaneous stimulation of various immune targets by combination adjuvants could produce a more effective and longer lasting immune response. Some highly effective vaccines stimulate multiple immune pathways. For example, the attenuated yellow fever vaccine YF-17D is known to produce a high quality immune response (> 98% protection), which lasts for at least 10 years, and up to 35 years, after a single vaccination.
It has been demonstrated that the YF-17D vaccine stimulates innate signaling pathways for Toll like receptors (TLRs) 2, 7, 8 and 9 in dendritic cells, which in turn activate multiple innate and adaptive immune components. The activation of numerous arms of the immune response offers a compelling explanation for the strong and durable protection against infection that is induced by this vaccine.
The development of effective adjuvants is a high-priority research area for NIAID, which has invested significantly in the discovery and development of new adjuvants since 2003.
Grants awarded under this NIAID-led Molecular Mechanisms of Combination Adjuvants research program funds projects designed to shed light on how adjuvants work in combination. These adjuvants may be either in current clinical use or in development. Investigators will study which adjuvants work best together and why, how combinations of adjuvants interact with the immune system, and how synergies between adjuvants can be optimized.
The following institutions received the new grants:
Children's Hospital Corporation, Boston, Massachusetts. Ofer Levy, M.D., Ph.D.
Tulane University, New Orleans, Louisiana. James B. McLachlan, Ph.D.
Georgia Institute of Technology, Atlanta, Georgia. Krishnendu Roy, Ph.D.
University of Wisconsin, Madison. Marulasiddappa Suresh, D.V.M, Ph.D.
University of California, Irvine. Aaron Palmer Esser-Kahn, Ph.D.
Jackson Laboratory, Farmington, Connecticut. Jacques Banchereau, Ph.D.
Studies by these investigators are expected to help determine optimal combinations of adjuvants capable of triggering long-term protective immune responses to prevent or ameliorate infectious disease.