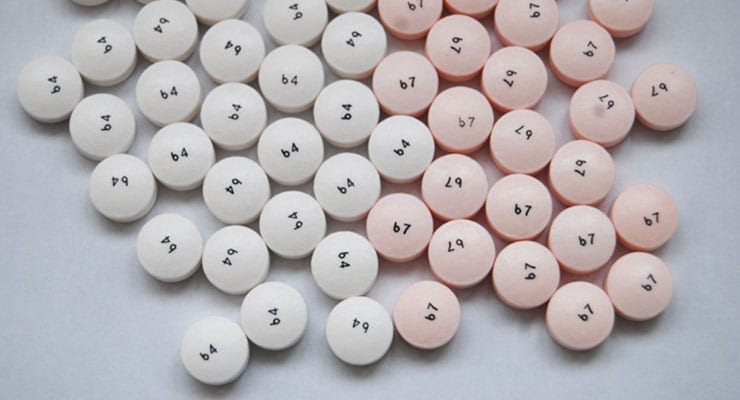 The Adenovirus vaccine has been protecting military trainees from infections by Adenovirus serotypes 4 and 7 since October 2011, when the military services resumed its use after a 12-year gap.
Back in 2001, Barr entered into a multi-year agreement with the U.S. Department of Defense (DOD) for clinical development of the Adenovirus Vaccines, Type 4 and 7. As part of the agreement, Barr constructed a dedicated facility to support the production of supplies necessary to complete the approval process and support projected needs of the DOD. The company completed the Phase I study in April 2006, and completed the Phase III clinical program in April 2008.
See also: Restoring Adenovirus Vaccine (Contract Pharma)
The finished dosage form is an orally administered enteric-coated tablet, with an inner tablet core containing live adenovirus — type 4 or type 7 — surrounded by an outer tablet coat and a final enteric coating. The vaccines are administered as individual oral tablets taken together.
The DoD this week awarded Barr Laboratories Inc., a subsidiary of Teva Pharmaceutical Industries Ltd., in North Wales, Pennsylvania, a maximum $35,232,541 modification (P00005) exercising the second one-year option period of a one-year base contract (SPE2DP-15-D-0002) with four one-year option periods for continued supply of these two types of adenovirus vaccine.
This is a firm-fixed-price contract with a Dec. 31, 2017, performance completion date. The contracting activity is the Defense Logistics Agency Troop Support, Philadelphia, Pennsylvania.
Read more: Protein Sciences Awarded DoD Grant for Novel Adenovirus Vaccine
Surveillance data provided by the Naval Health Research Center shows the Adenovirus vaccine is 99 percent effective at preventing disease associated with Adenovirus type 4. Since October 2011, the use of the vaccine by the DoD has prevented an estimated 50,000 cases of Febrile Respiratory Illness, saving roughly 150,000 training days that would have been lost to illness.