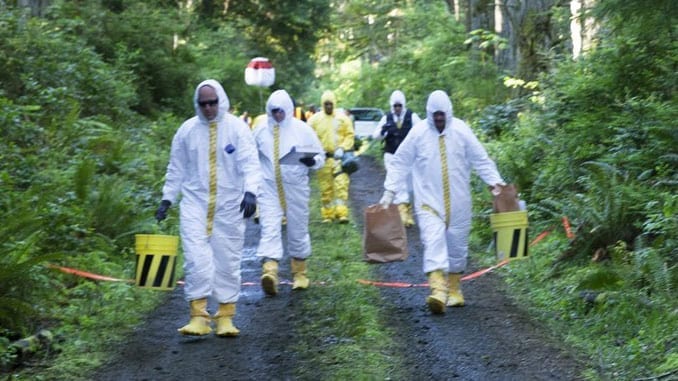 One of the main jobs of the Federal Bureau of Investigation's Weapons of Mass Destruction (WMD) Directorate is to imagine worst-case scenarios and then devise ways to prevent and prepare for them.
The Directorate was created 10 years ago last month, on July 26, 2006. John Perren, who has served as the WMD Directorate's assistant director since 2012 and was instrumental in its creation, said his team's job is to find gaps and vulnerabilities in the system and work to fix them.
"We are intelligence driven," Perren said of today's WMD Directorate. "We have analysts embedded within different cells, but we also have tactical analysts with our operators in our investigations unit. We've done great things when it comes to investigations. We've been very proactive. We have undercover platforms. We have intelligence platforms. We work on the Dark Web. We work in all areas of the world."
The FBI has long had a role in preventing and investigating weapons of mass destruction. In 2005, FBI Director Robert S. Mueller recognized the need to elevate WMD matters with a focus on a more cohesive and coordinated approach. The WMD Directorate was officially established a year later. And Mueller tapped Dr. Vajid Majidi, the Department of Justice's chief science advisor, to serve as assistant director.
"The Directorate integrates and links all the necessary intelligence, scientific, and operational components to detect and disrupt the acquisition of WMD capabilities and technologies for use against the U.S. homeland by terrorists and other adversaries," Mueller said in testimony before Congress just six months after the WMD Directorate's formation.
The Directorate has three sections: countermeasures, investigations and operations, and intelligence. In its first five years, the Directorate established itself as a central hub for WMD subject-matter expertise. Over the past five years, Perren said, it has assumed a more operational posture, investigating hundreds of cases, providing scenario training for emergency responders, and establishing contacts and relationships in the communities where the FBI operates.
Given the nature of his job, Perren is often asked what his biggest worries are. "What keeps me up at night is not what I know. It's what I don't know," he has said in speeches, in testimony, and in briefings to members of Congress.