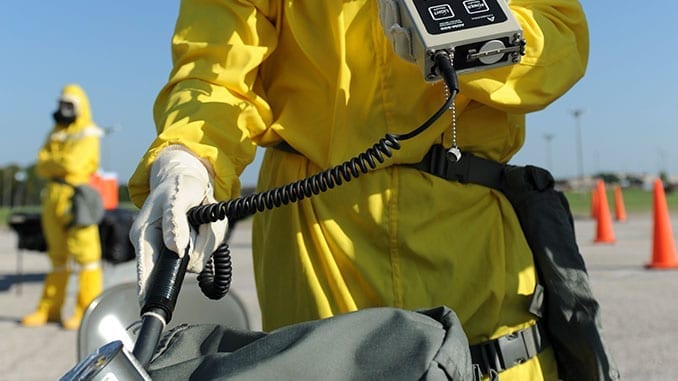 Bioenvironmental engineering technicians from Minot Air Force Base, N.D. protect Airmen and their families by continuously ensuring base facilities are hazard-free.
The technicians perform air and water sampling throughout the year for preventative care, and visit all missile alert facilities at Minot AFB quarterly to perform tests and keep track of people and facilities exposed to potential hazards.
"When we do air sampling and the sample goes beyond a certain limit, we have to continue sampling for that location every quarter in order to maintain control of the hazard," said Senior Airman Isaac Darko, 5th Medical Operations Squadron bioenvironmental engineering technician.
The three main sections that bioenvironmental Airmen deal with are industrial hygiene, occupational health and emergency response.
Industrial hygiene identifies any potential shop hazards and prevents people from being exposed. Occupational health deals with actions taken after a person has been exposed to a hazard. Emergency response takes care of any chemical, biological, radiological, nuclear or explosive accident.
When technicians come into contact with hazards, immediate action is taken. They first identify the type of hazard, then recommend preventative measures, such as wearing a respirator or gloves, to avoid further exposure.
Darko also discussed how exposure to hazards could have long-term effects on the individuals and their families.
"If we don't go out to analyze the hazards and recommend controls, people working in certain shops may have a hazardous chemical on their skin or uniform and can carry these hazards back home, which can result in chemical transferring to family members," Darko said.
When thinking about what the career field does in the long run, Airman 1st Class Kyle Hipol, 5th Medical Operations Squadron bioenvironmental engineering technician, added how he is satisfied in knowing how their job contributes to the overall mission.
"To know that in an emergency situation we can properly assess a situation, such as a radiation hazard, is one of the coolest parts of our job," Hipol said.
Story by Jonathan McElderry, 5th Bomb Wing Public Affairs, adapted for Global Biodefense.