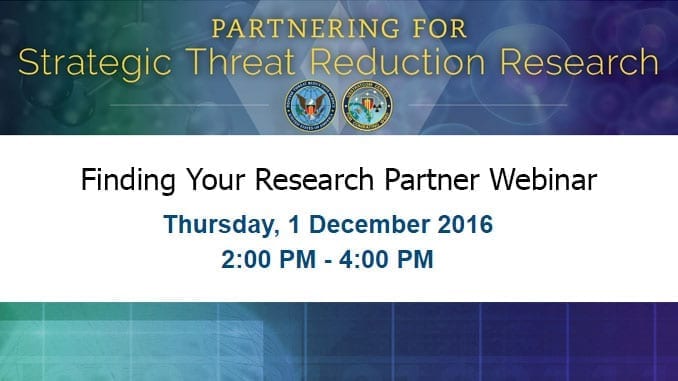 The Defense Threat Reduction Agency (DTRA) Joint Science and Technology Office (JSTO) will host a 'Partnering for Strategic Threat Reduction' webinar on Dec. 1, 2016 from 2:00-4:00 p.m. Eastern.
JSTO's research and development portfolio funds public and private partners as they pursue physical and medical sciences to develop threat response technologies such as diagnostic tools, therapeutics and medical countermeasures.
This first webinar of a three-part series will focus on strategies to strengthen responses to DTRA solicitations and broad agency announcements to advance chemical and biological defense technologies.
The agenda outline includes:
Welcome and DTRA Overview
DTRA Missions and Research Requirements
Partnering to Pursue DoD/DTRA Opportunities
A University Case Study in Partnering
Guidance for Building Partnerships and Teaming Networks
Question and Answer Session
Interactive Networking Chat Session
Advance registration for the event is required and is available here.