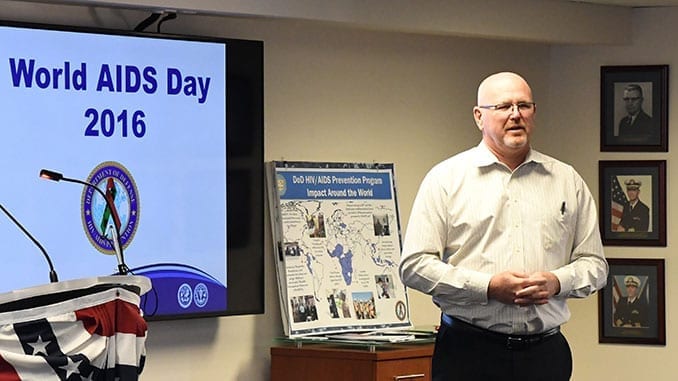 Rick Shaffer, Ph.D. and director of the DoD HIV/AIDS Prevention Program (DHAPP) at the Naval Health Research Center (NHRC), discusses the work the U.S. military has done in fighting the global HIV/AIDS pandemic. Shaffer played a key role in early HIV prevention research at NHRC in the early 1990s and has been leading DHAPP since it was launched in 2000 as the DoD Leadership and Investment in Fighting an Epidemic Initiative, part of efforts by the White House and DoD to reduce threats to global security posed by infectious diseases.
The U.S. military has always played a leading role in combating infectious diseases. During the Revolutionary War, General George Washington understood the potential for contagious diseases to devastate his troops and ordered that members of the Continental Army be inoculated to prevent smallpox.
Since that time, military medicine has made major contributions to fighting infectious diseases around the globe to protect our warfighters from dangerous pathogens and keep them mission ready. From typhoid and dengue to Japanese encephalitis and Ebola, military researchers have worked tirelessly to better understand these diseases, develop vaccines, and support improved care and treatment methods.
When the first cases of human immunodeficiency virus (HIV) infection were identified in U.S. military personnel in 1984, military medicine responded to this emerging threat. In 1986, mass screening of active duty military members for HIV infection began and HIV prevention programs were developed soon after.
I was a Navy epidemiologist conducting research in the areas of injury, illness, and risky behaviors in 1992, when the Naval Health Research Center (NHRC) launched efforts to develop education programs to help reduce the transmission of HIV within the U.S. military. Capt. Stephanie Brodine, an infectious diseases physician at NHRC, and I (a lieutenant commander at the time) wrote proposals for two HIV research projects, which were funded by the National Institutes of Health (NIH) and the U.S. Army.
My work focused on evaluating the effectiveness of a large intervention trial to reduce HIV among deployed forces and Brodine's research established HIV distribution and risk factors in U.S. military personnel. Our initial research efforts helped build the foundation of a prevention program used throughout the military, and NHRC became an important Department of Defense (DoD) resource to help control the spread of HIV.
By 2000, in addition to recognizing the threat HIV posed to U.S. troops, White House and DoD leaders recognized the potential impact of the virus on global security as well. In January of that year, the National Intelligence Council concluded that infectious diseases not only threatened global health, but also posed a threat to U.S. troops by exacerbating social and political instability in regions where they deploy. To help contain the threat posed by the HIV epidemic, the White House established the Leadership and Investment in Fighting an Epidemic (LIFE) initiative.
LIFE, a $100 million initiative, was designed to provide assistance to countries around the world that were fighting the HIV pandemic. In addition to the DoD, the White House asked the U.S. Agency for International Development and the Centers for Disease Control and Prevention (CDC) to support the initiative. The DoD's role in the LIFE initiative was to approach foreign militaries and offer assistance in developing their own military HIV control programs using $10 million of the LIFE funding over the next two years.
Aware of NHRC's HIV research over the past decade and expertise in developing HIV prevention tools in the U.S. military, the Office of the Secretary of Defense (OSD) specifically requested the U.S. Navy, through NHRC, to represent the DoD as the executive agent for the LIFE initiative. In turn, the Navy surgeon general, aware of our work at NHRC with HIV research, requested that I head up the new program. In addition to managing all the research within my department at NHRC, I was now responsible for starting the LIFE initiative from scratch.
To help, I was assigned one new officer—Lt. Heidi Kraft, a psychologist. Recognizing the scope of the project, I also talked Stephanie Brodine, who had since retired from active duty, into returning to NHRC as a contractor. The three of us were provided a list of priority countries from the OSD and we began building a staff and traveling around the globe, offering U.S.-DoD assistance with their HIV prevention efforts.
It's very common for the U.S. and DoD to engage in military exercises and weapons training with partner militaries around the world in what's known as security cooperation. When it became apparent that other militaries were struggling with the HIV problem, something we had been dealing with for many years, the U.S. military realized it could expand its typical security cooperation role to include medical education and training.
While there have always been individual medical training opportunities, the DoD LIFE program was the first to do this on a large scale, which meant there was no template or protocol for the work we were doing. We had to establish relationships in each country on OSD's list with their military leaders and medical personnel that previously did not exist.
By March 2001, starting with South Africa, the DoD LIFE initiative had successfully established cooperative HIV assistance programs with the militaries of nine sub-Saharan African countries and added the militaries of four more countries by 2002. These programs focused on developing HIV policies and building medical infrastructure to support prevention, care and treatment efforts within the countries targeted for intervention. For the military personnel in the targeted countries, the team leveraged their epidemiology expertise and worked on developing prevention strategies and behavior changes to help prevent the virus from spreading.
Between 2000 and 2002, the three of us traveled all over sub-Saharan Africa. I traveled to South Africa 13 times to establish the new program there. That was the first country we targeted for support so subsequent programs didn't take as many visits. Looking back at my travel orders, just in 2002, I was in South Africa, Botswana, Lesotho, Swaziland, Senegal, Uganda, and Zambia.
Our team was also directed to recruit other "donor" militaries, so that year I also traveled to Amsterdam, England, France, Switzerland, Germany, and Portugal. In all, I've been to 128 countries with this program. Some of the more interesting militaries to work with have been those from South Africa, Botswana, Senegal, Russia, India, and Vietnam.
Over the years, I've also been fortunate to have met the presidents of four of the countries we work with, ministers of defense in well over half of our partner nations, and the surgeons general of most of them. My work has also led, at various times, to meetings with two U.S. secretaries of state, with the four-star generals and admirals of three U.S. combatant commands, and I've been invited to the White House on three occasions.
In 2002, with global efforts to combat the spread of HIV well underway, the DoD LIFE initiative was renamed the DoD HIV/AIDS Prevention Program (DHAPP), and continued to grow the number of partner militaries. The success of the LIFE initiative was built on by the White House and, in 2003, the U.S. President's Emergency Plan for AIDS Relief (PEPFAR) was announced at the State of Union address as the largest international assistance program focused on a single disease.
That year also brought a significant change in my life—I retired from the Navy in September. Fortunately, I was able to continue my work with DHAPP, returning the very next day as a civilian. I had gone from being just one of three people in the field building the program to becoming the "face of the program," advocate, cheerleader, and strategist for a program that had grown legs and now had more staff.
Today, DHAPP has a staff of 100—40 at our headquarters at NHRC in San Diego and 60 attached to U.S. embassies around the world. We also benefit from the involvement of the Walter Reed Army Institute of Research who support several of our military HIV assistance programs. Under the PEPFAR program, additional U.S. government agencies were added to the global HIV/AIDS relief effort and funding for DHAPP increased from the initial $10 million in 2000 to over $100 million in 2015.
The number of DHAPP collaborations increased from the initial nine countries to a peak of 82 in 2010, and we currently have 62 foreign military partners. Working with our partners over the years, DHAPP accomplishments include:
More than 20 militaries around the world that no longer need our help to operate their HIV control programs
HIV assistance is now a typical part of the U.S. DoD Security Cooperation Program and a formal part of Stability Operations
Foreign militaries that were once reluctant partners had taken steps towards better relationships with the U.S. military: the Russian military used the U.S. military as its model for establishing HIV policy; and HIV cooperation has played a role in the continuing reestablishment of connections between the U.S. and Vietnamese militaries
The existence of DHAPP has helped ensure that militaries who would not normally receive foreign assistance without U.S. military involvement are getting the support they need to fight HIV/AIDS
DHAPP's mission today, just as it was from the beginning in 2000, is to provide assistance to partner militaries around the world with their HIV prevention, care, and treatment programs. In the early days, we were more focused on policy development, education and training, testing, and infrastructure. Now, we are data-driven, focusing on testing and treating as many HIV-positive individuals as possible while effectively managing funding.
During my time with DHAPP, we've achieved a lot of great things, but there are three that stand out and make me the proudest. We have developed an outstanding staff of professionals in our headquarters and the field who are dedicated to the fight against HIV. I still feel privileged that my job has allowed me to "make a difference." At DHAPP, we have never forgotten that our mission is to serve the HIV-related needs of our partner military members and their families, and we will continue to do so with the same dedication and professionalism as we have since the beginning.
Article courtesy of the Naval Health Research Center, edited for context and format by Global Biodefense.