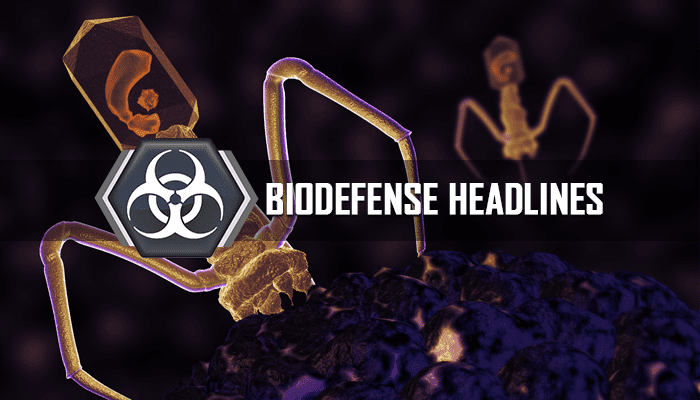 See what we're reading this week at Global Biodefense on topics including the chemical attack in Douma, giant viruses, and biodefense early warning systems.
POLICY + POLITICS
In review of Ebola recovery, GAO urges better accountability
A review of US-funded Ebola recovery projects in Guinea, Liberia, and Sierra Leone by the US GAO found that, of $1.6 billion appropriated by Congress in 2014 for US Agency for International Development (USAID) in the hard-hit region, $411.6 million has been targeted to 131 specific projects. CIDRAP
Preprints: An underutilized mechanism to accelerate outbreak science
Preprints posted during the Ebola and Zika outbreaks included novel analyses and new data, and most of those that were matched to peer-reviewed publications were available more than 100 days before publication. Despite the advantages, less than 5% of Ebola and Zika journal articles were posted as preprints prior to publication in journals. PLOS Medicine
NIH moves to punish researchers who violate confidentiality in proposal reviews
When a scientist sends a grant application to the U.S. National Institutes of Health (NIH) in Bethesda, Maryland, and it goes through peer review, the entire process is supposed to be shrouded in secrecy. But late last year, NIH officials disclosed that they had discovered that someone involved in the proposal review process had violated confidentiality rules designed to protect its integrity. Science
Join APHA and celebrate National Public Health Week 2018
Hundreds of events, conversations and activities planned for the week in every state will encourage and support communities to take action on preventing disease and injury and improving health. American Public Health Association
H.R. 1415, End Neglected Tropical Diseases Act
In fiscal year 2017, CDC received $24.5 million to develop strategies to reduce deaths, illnesses, and disabilities caused by parasitic diseases and malaria. CBO estimates that, under H.R. 1415, conducting similar activities for additional NTDs would require annual appropriations of about $5 million a year; outlays would total $21 million over the 2018-2022 period. Congressional Budget Office
BIOPREPAREDNESS
Early warning tools needed for chem-bio defense
The U.S. military is in need of new tools that can provide early warning for chemical and biological contamination on the battlefield and connect to commanders' networks. Integrated early warning is "probably our No. 1 priority," said Ronald Hann, director of the chemical and biological technologies department at the Defense Threat Reduction Agency. "If we can know where an attack is at, we can avoid it, we can make sure people are protected." National Defense
Considerations for the use of temporary surge sites for managing seasonal patient surge
This ASPR TRACIE fact sheet describes the major considerations healthcare facility emergency planners should take into account when developing patient surge management solutions for longer-duration events, such as weeks to months of managing seasonal illness surge. These considerations are different than those of planning to handle surge from a no-notice, short duration event. ASPR
Emergency smart pods — transforming containers into modern medical clinics
Over the past three years, the Baylor College of Medicine team has developed and tested the Emergency Smart Pod, a rapidly deployable treatment center that can serve as an isolation unit for patient care during infectious disease outbreaks. Each pod can be shipped directly to its destination by boat, truck, or air, and assembled in less than five minutes with a team of four people. In addition, multiple pods can fit together like Legos to create larger medical clinics. DipNote
How fast can an outbreak be detected?
How do you stop an outbreak from becoming an epidemic? You catch it early, of course – a task that requires rapid response and coordination. That's a tough mission in any country, especially a nation lacking in resources. Uganda is proving that it's absolutely doable, even in a low-income country. NPR
CHEMICAL WEAPONS
Suspected chemical attack 'kills scores' in Syria's Douma
Government forces are accused of dropping poisonous chemicals on last rebel stronghold in Eastern Ghouta. The White Helmets, a group of rescuers operating in opposition-held areas in Syria, said on Saturday that most of the fatalities were women and children. "Seventy people suffocated to death and hundreds still suffocating," Raed al-Saleh, head of the White Helmets, adding that the death toll was expected to rise as many people were in critical condition. Al Jazeera
Skripal: the weight of evidence
The UK's case is built on three other interlocking pieces of evidence. First is the use of a military-grade nerve agent, originally developed by Moscow. Second, intelligence that Russia has manufactured and stockpiled small quantities of Novichok within the past decade, and investigated its use for assassination. Third is the assessment that Russia has an active program of state-backed assassinations, views defectors as legitimate targets, and has passed laws to enable such action. The Interpreter
Myth busting: Why didn't the Skripals die on the spot?
Nerve agents only really work quickly when they are inhaled. The mechanism of action in the Skripal case appears to be dermal absorption – the agent got into their systems through the skin. This works slowly. Signs and symptoms progress from localized ones at the site of exposure to central ones over a period of hours. In a cold war-era study with goats and the nerve agent Soman, death took up to 48 hours after exposure to the shaved skin. It's not exactly fast. Politics.co.uk
RESEARCH UPDATES
Seroprevalence of chikungunya virus after its emergence in Brazil
Population-based study through household interviews and serologic surveys. Data confirms intense CHIKV transmission during the continuing epidemic. Chronic pain developed in a high proportion of patients. Recommendations include training health professionals in management of chronic pain, which will improve the quality of life of chikungunya-affected persons. Emerging Infectious Diseases
How we did the ClinicalTrials.gov data analysis
"I have a dream that one day all public information and all software will be free, transparent, and open source, and all people will have the skills to benefit from it. We are not living in my dream world yet. But here at STAT, we're trying to do our part to open up a little more data stored in government databases." STAT
Meet the giants among viruses
Today, scientists are finding ever bigger viruses that pack impressive amounts of genetic material. The era of the giant virus began in 2003 with the discovery of the first Mimivirus. The viral titan is about 750 nanometers across with a genetic pantry boasting around 1.2 million base pairs of DNA, the information-toting bits often represented with A, T, C and G. Influenza A, for example, is roughly 100 nanometers across with only about 13,500 base pairs of genetic material. Science News
OUTBREAK NEWS
New coronavirus emerges from bats in China, devastates young swine
A newly identified coronavirus that killed nearly 25,000 piglets in 2016-17 in China emerged from horseshoe bats near the origin of the severe acute respiratory syndrome coronavirus (SARS-CoV), which emerged in 2002 in the same bat species. The new virus is named swine acute diarrhea syndrome coronavirus (SADS-CoV).
Vancouver Island puzzled by rare cholera outbreak
Four human cases of cholera have been identified on Vancouver Island. The cases have been linked to consumption of herring eggs that were harvested on the coast of the island. This string of cases has surprised health officials because cholera is rare in Canada; only seven cases of cholera throughout the country have occurred in the last five years, all of which were imported from cholera-endemic countries. The Disease Daily
SELECT AGENTS
Study: Ebola survivors can safely have cataract surgery
From 13% to 34% of Ebola survivors will have post-infection vision impairment due to uveitis, an eye inflammation caused by cataracts. But because the Ebola virus is known to remain in ocular fluid even after clearing the rest of the body, doctors are hesitant to perform cataract or other ocular surgeries on survivors because of the risk of infection. CIDRAP
Potential biomarkers in animals could signal Ebola virus infection before symptoms appear
Scientists have identified potential biomarkers in nonhuman primates exposed to Ebola virus (EBOV) that appeared up to four days before the onset of fever. The work could pave the way for developing diagnostic tools to identify EBOV infection in humans even before symptoms appear. Science Daily
MEDICAL COUNTERMEASURES
Influenza vaccination during pregnancy and protection against pertussis
Infection with the influenza virus can enhance susceptibility to infection by bacteria such as streptococcus, Haemophilus influenzae, and Staphylococcus aureus. However, the relationship between influenza virus and atypical bacteria — namely, Bordetella pertussis — has not been well characterized. New England Journal of Medicine
Why we need a universal flu vaccine
The flu virus's continual evolution is why we keep crafting new cocktails for it. If it evolves aggressively enough, we're almost certain to have another pandemic. Even with the best analyticsthe process for identifying the flu to create a vaccine isn't much better than in 1918. "It's a guess," said Bruce Gellin, president of global immunization at the Sabin Vaccine Institute. "An informed guess, but a guess." Forbes
HPV vaccine coverage on the rise, but still far from 2020 goal
The proportion of boys and young men in the U.S. receiving the human papillomavirus (HPV) vaccine has more than tripled since 2011, new research shows. Among 9- to 26-year-old males, 27 percent had received at least one dose of the vaccine in 2016, compared to 8 percent in 2011. Vaccination rates rose from 38 percent to 46 percent in girls and women over the same time period. The federal government's Healthy People 2020 initiative calls for 80 percent of 13- to 15-year-olds, regardless of gender, to be fully immunized against HPV by the year 2020. Reuters
OPPORTUNITIES
Epidemic Intelligence Service (EIS) disease detectives
CDC will accept EIS disease detective applications starting April 16, 2018. EIS officers are selected from among highly qualified applicants drawn to public health service and interested in practicing applied epidemiology. CDC
Solicitation of nominations for membership on the National Vaccine Advisory Committee
HHS is seeking nominations for membership on the National Vaccine Advisory Committee. Apply by May 4, 2018. The Committee studies and recommends ways to encourage the availability of an adequate supply of safe and effective vaccination products in the United States; recommends research priorities and other measures to enhance the safety and efficacy of vaccines. Federal Register
Director, Office of Blood Research and Review (OBRR)
The FDA Center for Biologics Evaluation and Research (CBER) is seeking a Director, Office of Blood Research and Review (OBRR). Apply by April 30, 2018. This position is located in Silver Spring, Maryland. FDA.gov
SPECIAL INTEREST
93 DAYS, film on Nigeria's Ebola experience, screens in Hollywood
The film is a compelling drama of dedication, sacrifice, resilience and survival based on the true story of the people who risked their lives to prevent a catastrophic virus outbreak in Nigeria. Vanguard Nigeria
ProMed April Fool's
If you're a subscriber to the International Society for Infectious Disease's ProMed email alerts, you may have come across this little gem on Monday. Who says we don't have fun in biodefense? Pandora Report
Thank you for reading Global Biodefense. Subscribe now to get the latest updates by email. To share comments and insights, please contact Editor Stephanie Lizotte. Stay up to date with us on Twitter @GlobalBioD and follow Global Biodefense on Facebook and Instagram.