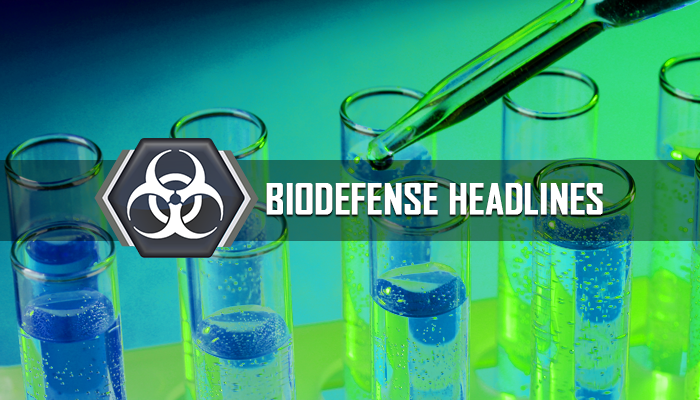 See what we're reading this week at Global Biodefense on topics including regulation of genetically engineered livestock, chemical weapons investigators in Douma, and the latest news on rapid diagnostics.
POLICY + INITIATIVES
GAO asks USDA to further cut pathogens in meat, poultry
The USDA has taken important steps to establish pathogen standards for some meat and poultry, but some commonly consumed products such as turkey breasts and pork chops don't have standards, and it's not clear how the agency decides which products to consider for new standards, a new GAO report said this week. CIDRAP
CDC requests new high containment lab
Working with dangerous agents like Ebola or Marburg requires a biosafety level 4 (BSL4) laboratory, which has very specific biosafety requirements, and the ones at the CDC are in sore need of updating. Contagion Live
An afternoon with ASPR – Dr. Robert Korch and Dr. Dana Perkins
Dr. Korch highlighted the current ASPR priorities; reorganization of the office for the new path forward, reauthorization of the Pandemic and All Hazards Preparedness Act (PAHPA), preparing for large-scale response needs, and modernizing the National Disaster Medical System. Dr. Perkins addressed the role of the Strategic National Stockpile (SNS), Federal Experts Security Advisory Panel (FESAP), and the Biomedical Advanced Research and Development Authority (BARDA) Pandora Report
U.S. agencies clash over who should regulate genetically engineered livestock
Porcine reproductive and respiratory syndrome virus is one of the latest examples of a condition that scientists believe they can beat with genetic engineering, and one that's caught up in a disagreement between the USDA and the FDA over how quickly such methods should be approved, and by whom. Science
Fort Detrick-based lab investigating after tuberculosis found among lab animals, caretaker
The U.S. Army Medical Research Institute of Infectious Diseases — a tenant agency at Fort Detrick in Frederick — is investigating after five laboratory primates tested positive for the bacteria that cause tuberculosis. The disease was found among a group of cynomolgus macaques. One monkey was identified as a suspect for tuberculosis in late February and tested positive for the disease in March after a necropsy, said Caree Vander Linden, a spokeswoman for USAMRIID. Frederick News-Post
Eliminating defense agencies could put $7B in contracts at risk
About $7 billion worth of contracts to companies such as Booz Allen Hamilton Holding Corp. could be on the chopping block under legislation drafted by Rep. Mac Thornberry, the chairman of the House Armed Services Committee. The largest portion of this work was for Defense Systems Technical Area Tasks, an estimated $1.3 billion contract that began in 2014 and runs through June of 2022. Thus far, about $577 billion has been spent on the work. Booz Allen shares the contract with a variety of other companies. Bloomberg Government
Lessons from a public health catastrophe
Just as governments prepare for relatively frequent disasters such as hurricanes and ice storms, as well as infrequent emergencies such as major earthquakes and terrorist attacks, the experience of the Spanish flu pandemic shows that governments should plan as well for such infectious disasters. Governing
CHEMICAL WEAPONS
Chemical weapons inspectors finally gain access to Douma
After numerous delays, the Fact-Finding Mission (FFM) team of the Organisation for the Prohibition of Chemical Weapons visited one of the sites in Douma, Syria this weekend to collect samples for analysis in connection with allegations of chemical weapons use on 7 April 2018. CBRNE Central
Development of neuropathology following soman poisoning and medical countermeasures
Nerve agent-induced seizures can cause varying degrees of neuropathology depending on level of poisoning and duration of seizing. The intention of this review was to validate a novel approach for establishing effective treatment regimens against soman poisoning. Research Gate
SLU professor discovers new biomarkers for chlorine gas exposure
Ford and his collaborators learned that they could discover exposure to chlorine gas by detecting the presence of reaction products of chlorine. Chlorinated lipids remain high even 24 hours after exposure, long after other biomarkers have returned to normal levels. News Medical
Age-dependent behaviors, seizure severity and neuronal damage in response to nerve agents
Exposure to nerve agents (NAs) and other organophosphates (OPs) can produce prolonged repetitive seizures and status epilepticus (SE), a medical condition that causes high morbidity and mortality. NAs and other OPs irreversibly bind to the active site of acetylcholinesterase (AChE) and thus inhibit the degradation of the neurotransmitter acetylcholine, which then results in excess cholinergic activation. NeuroToxicology
SELECT AGENTS
UN health agency: Hungarian scientist exposed to Ebola
The WHO says it has coordinated shipment of an experimental Ebola vaccine and drugs to treat a laboratory scientist in Hungary who was exposed to the potentially deadly disease earlier this month. Hungarian officials reportedly asked for help last week after a scientist working in a normally secure laboratory had an "accidental exposure" to Ebola. Washington Post
Spread of plague by respiratory droplets or ectoparasites
The role of ectoparasites in the transmission of Y. pestis should not be dismissed. However, until a substantial epidemic has been documented with this proven etiology, this explanation of plagues, both historical and modern, must remain in the realm of conjecture. CDC
The new killer pathogens: countering the coming bioweapons threat
Military and political leaders have worried about large-scale biological warfare for more than a century. "Blight to destroy crops, Anthrax to slay horses and cattle, Plague to poison not armies only but whole districts—such are the lines along which military science is remorselessly advancing," Winston Churchill lamented in 1925. Foreign Affairs
Why scientists thought Ebola would mutate really fast
At the start of the epidemic in West Africa, the Ebola virus did not change as rapidly as thought at the time. New research explains why scientists misjudged it. The culprit is probably methodological biases, according to research led by Tanja Stadler, a professor in ETH Zurich's department of biosystems science and engineering in Basel. Futurity
A standard method to inactivate Bacillus anthracis spores to sterility using γ-irradiation
In 2015, a laboratory of the United States Department of Defense (DoD) inadvertently shipped preparations of γ-irradiated spores of Bacillus anthracis that contained live spores. In response, a systematic, evidence-based method for preparing, concentrating, irradiating, and verifying inactivation of spore materials was developed. Applied and Environmental Microbiology
Review: treatment recommendations for biological disasters
Treatment for botulism involves supportive care and heptavalent botulism antitoxin (HBAT) and mechanical ventilation. HBAT is FDA approved, but only available through the CDC Strategic National Stockpile (SNS). To request it, clinicians should contact the staff of their local or state health department who will acquire the antitoxin via the CDC. If health department officials are unavailable, emergency consultation is available from the CDC Emergency Operations Center. EMPR
The cynomolgus macaque natural history model of pneumonic tularemia
The Tularemia Animal Model Qualification (AMQ) Working Group is seeking qualification of the cynomolgus macaque (Macaca fascicularis) model of pneumonic tularemia under Drug Development Tools Qualification Programs with the FDA based upon the results of studies described in this manuscript. Frontiers in Cellular and Infection Microbiology
Earlier detection of Ebola may be possible
In a new study in monkeys with Ebola, scientists discovered a common pattern of immune response among the ones that got sick, occurring four days before the onset of fever—the first observable symptom of infection. Futurity
MEDICAL COUNTERMEASURES
In encouraging sign, Ebola vaccine appears to provide long-lasting protection
An international consortium of researchers has reported that an Ebola vaccine appears to provide volunteers protection against the virus two years after they were injected —  encouraging findings both for the public health community and the vaccine's manufacturer. STAT News
#VaccinesWork… don't they?
Conflicts, instability, and humanitarian disasters are especially challenging and disrupt efforts to reach those most in need of vaccines. Another impediment to progress is true political commitment to an issue that has complex budgetary implications, particularly in countries where economic progress is such that they are transitioning out of international financial assistance. The Lancet Global Health
WHO advisers halt Sanofi Pasteur's dengue vaccine, for now
The WHO's strategic group of experts on immunization (SAGE) announced this week that Dengvaxia, the controversial dengue vaccine, should not be used until clinicians can confirm prior dengue infection at the time of administration. A point-of-care test is needed to determine the recipient's dengue status, and only those who have previously had the virus would get vaccinated. Such a test is at least 2 years down the pipeline, causing confusion and strain for countries that have purchased large amounts of the vaccine. CIDRAP
Rift Valley fever virus Gn ectodomain-based DNA vaccine
Rift Valley fever virus, a phlebovirus endemic in Africa, causes serious diseases in ruminants and humans. Due to the high probability of new outbreaks and spread to other continents where competent vectors are present, vaccine development is an urgent priority as no licensed vaccines are available outside areas of endemicity. Nature NPJ Vaccines
Safeguarding against Ebola: Vaccines and therapeutics to be stockpiled for future outbreaks
There are a number of challenges that must be overcome to ensure adequate preparedness for future Ebola outbreaks, including completing the remaining advanced development activities necessary for regulatory approval and subsequent stockpiling of these medical countermeasures for use during a public health emergency. PLOS
NovaDigm announces Phase 2a trial of NDV-3A in Staphylococcus aureus
The study is being conducted with the Uniformed Services University of the Health Sciences (USU) and is enrolling U.S. Army Infantry trainees at Fort Benning, GA. NDV-3A is the company's lead development candidate to potentially treat antimicrobial resistant fungal and bacterial pathogens. NovaDigm Therapeutics
Alternative or contingency countermeasures for acetylcholinesterase inhibiting agents
To augment supplies of community-based and forward-deployed nerve agent countermeasures, the American College of Medical Toxicology (ACMT) supports several strategies: The use of expired atropine, diazepam, and pralidoxime auto-injectors and vials if non-expired drugs are unavailable; and investigation, development, and identification of alternative countermeasures—commonly stocked drugs that are not approved for nerve agent poisoning but are in the same therapeutic class as approved drugs. SpringerLink (abstract)
RAPID DIAGNOSTICS
PATH and Mologic advance a new diagnostic test to support malaria elimination
PATH is advancing a portfolio of tests for G6PD deficiency that meet requirements for use in settings where P. vivax malaria is close to elimination. As part of this effort, PATH is working with Mologic to develop a novel qualitative point-of-care G6PD rapid diagnostic test (RDT). This new RDT has the potential to improve access to G6PD testing to support appropriate administration of primaquine. All Africa
Mesa Biotech to demonstrate new molecular POC testing platform
Mesa Biotech Inc. will demonstrate its novel Accula™ Flu A/Flu B test at the 28th Annual European Congress of Clinical Microbiology and Infectious Diseases (ECCMID) this week. The Accula Flu A/Flu B test is indicated for use with nasal swab collection that is less invasive than nasopharyngeal swabs and allows for a more comfortable specimen collection experience for the patient.
A rapid bio-optical sensor for diagnosing Q fever in clinical specimens
Existing Q fever assays are not suitable for the detection of this pathogen due to its low levels in real samples. By combining a bio-optical sensor, that transduces the presence of the target DNA based on binding-induced changes in the refractive index on the waveguide surface in a label-free and real-time manner, with isothermal DNA amplification, this new diagnostic tool offers a rapid (< 20 min) one-step DNA amplification/detection method. Research Gate
Alere settles case about point-of-care diagnostic devices
According to the government's allegations, Alere received customer complaints that put it on notice that certain devices it sold produced erroneous results that had the potential to create false positives and false negatives that adversely affected clinical decision-making, but the company failed to take appropriate corrective actions until FDA inspections prompted a nationwide product recall in 2012. Abbott Labs is acquiring Alere. Occupational Health & Safety
Rapid clinical microbiology diagnosis of bloodstream infections with broad species coverage
Bruker has introduced new diagnostic workflow solutions for rapid and cost-effective microbial identification and antibiotic resistance testing from positive blood cultures – called the integrated Bologna Workflow.  Bruker also launches additional molecular assays for comprehensive and fast invasive fungal disease (IFD) testing in blood, without the need for any culturing step. Bruker
CLIA-waived rapid flu test facts
As of February 2018, there is no nationwide shortage of rapid flu tests in the U.S. In fact, there are currently 13 rapid flu tests available in the U.S. that have demonstrated acceptable clinical performance. Of these, six are antigen-based rapid flu tests (commonly referred to as rapid influenza diagnostic tests or RIDTs) and seven are nucleic acid-based rapid molecular flu tests that are available for use in primary care. Food and Drug Administration (pdf)
Rapid and sensitive diagnostic test to detect microbial infections from an unknown sample
Rice University introduces a highly sensitive microbial diagnostic platform to screen and detect microbial organisms in an infectious sample and identify each pathogen along with the pathogen concentration using a combination of probes and compressive sensing mathematical algorithms. Flintbox
Prospective evaluation of a rapid diagnostic test for Trypanosoma brucei gambiense infection
The Card Agglutination Test for Trypanosomiasis (CATT) has been the most widely used screening test for decades, despite a number of practical limitations that were partially addressed by the introduction of rapid diagnostic tests (RDTs). However, current RDTs are manufactured using native antigens, which are challenging to produce. PLOS Neglected Tropical Diseases
Point-of-care tests for syphilis and yaws in a low-income setting
Point-of-care tests (POCTs) for syphilis and yaws allow testing without further development of infrastructure in populations where routine laboratory facilities are not available. Alongside the test's performance characteristics assessed through diagnostic evaluation, it is important to consider broader issues when rolling out a POCT. Experience with malaria POCT roll-out in sub-Saharan Africa has demonstrated that both healthcare worker and patient beliefs may play a major role in shaping the real-world use of POCTs. PLOS Neglected Tropical Diseases
OpGen completes rapid testing clinical trial in Colombia and expands international operations
OpGen has successfully completed a prospective clinical trial evaluating the impact of using rapid diagnostic testing for identification and treatment of bacteremia and fungemia in hospital intensive care units in Colombia. The study showed significant improvement in survival and reductions in antibiotic usage for patients receiving the OpGen rapid diagnostic test.  Results will be presented at the American Society for Microbiology ASM Microbe 2018 meeting this June. Globe Newswire
For this family, the flu's final gut punch was an $887 testing charge
The flu test Christopher received was called a respiratory viral panel, a newer product that tests for 12 to 20 flu-like illnesses. Doctors like it because it is often more accurate than the older rapid flu tests and more effective in finding out what's wrong with a patient, if not the flu. Philly.com
FDA clears lower respiratory tract infection rapid diagnostic test
The FDA has granted de novo clearance of the first molecular diagnostic test for lower respiratory tract infections. The Unyvero System and Unyvero LRT application cartridge, manufactured by Curetis, can deliver test results from aspirate samples in less than 5 hours, the company said. It can detect more than 30 gram-positive and gram-negative bacteria, along with 10 genetic markers for antibiotic resistance. Healio
SPECIAL INTEREST
NASA 'clean' room is contaminated with fungus
Clean rooms are the final line of defense in extraterrestrial exploration: Spacecraft departing for other worlds are stripped of any biological contaminants there, and samples returning from space, such as the Apollo moon rocks, are stored in pristine conditions to be studied later. But a new study suggests that a clean room storing meteorite samples at NASA's Johnson Space Center (JSC) in Houston, Texas, may not be quite so clean, after all. Science
Viewpoint: Rampage movie offers twisted take on CRISPR gene editing
The use of CRISPR to edit genes is perhaps the only novel plot point in this latest monster movie. An evil head of a biotech company subverts a scientist's work to fashion a bioweapon that revs up the growth hormone gene, and more, in three unfortunate animals. Cue Godzilla, King Kong, and the beast in Lake Placid. Genetic Literacy Project
Summer Workshop on Pandemics, Bioterrorism, and Global Health Security: From Anthrax to Zika
The early-bird registration discount deadline is fast approaching, so make sure you're signed up for the workshop on all things health security from July 18-20.  Pandora Report
This four-story steel sphere in Maryland was used to test biological weapons
'The 8-Ball' is undeniably an impressive structure. It's the largest biological warfare chamber and testing facility of its kind ever made, at least as far as we know. Still, there's something sinister about this now nonoperational sphere in Fort Detrick, Maryland, in which explosive disseminators were once used to test pathogens against animals and human volunteers. Atlas Obscura
Thank you for reading Global Biodefense. Subscribe now to get the latest updates by email. To share comments and insights, please contact Editor Stephanie Lizotte. Stay up to date with us on Twitter @GlobalBioD and follow Global Biodefense on Facebook and Instagram.