Eastern equine encephalitis (EEE) virus—a rare but often fatal mosquito-borne virus—has been found in Massachusetts for the first time since 2013.
Since the beginning of August, seven people in the state have tested positive for the virus, and one woman from Bristol County has died from the illness. State officials have additionally found the virus in 400 mosquito samples.
Symptoms, including fevers, chills, and fatigue, can manifest abruptly and are later accompanied by standout neurological problems "such as headache, cognitive changes, seizures, weakness, numbness, difficulty with coordination, or visual changes, among other signs."
Read the full story by Jessica Colarossi at Boston University's The Brink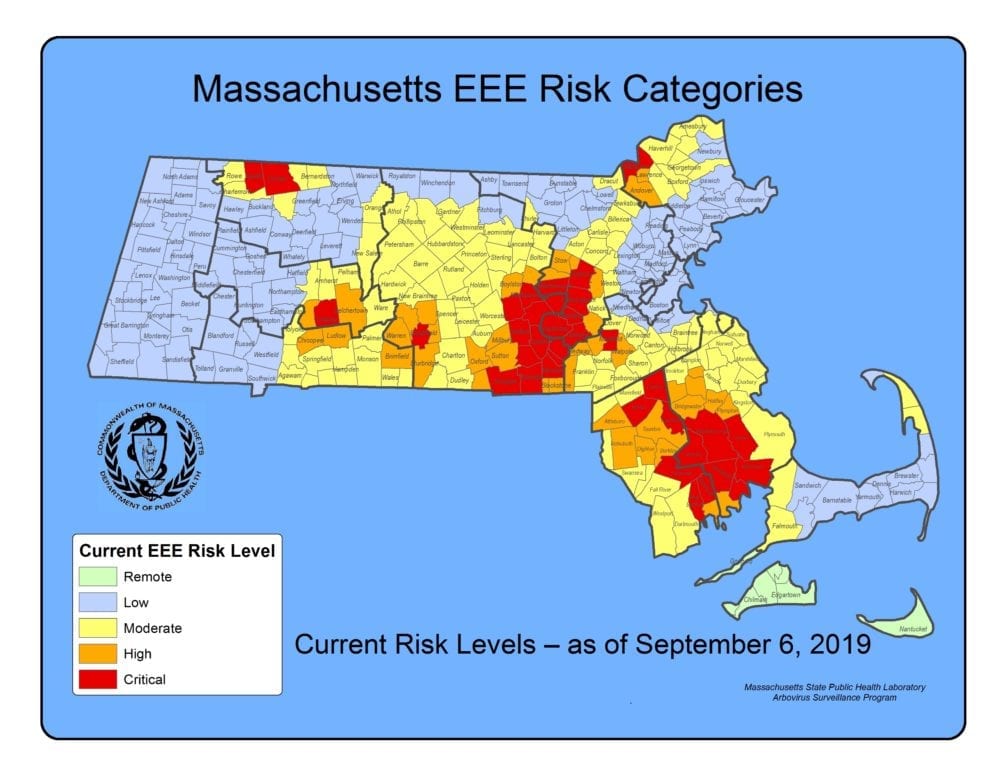 ---
RELATED READING
Centers for Disease Control and Prevention
In the United States, an average of 7 human cases of EEE are reported annually. In 2019, there have been 7 cases confirmed in Massachusetts alone. Most cases of EEE have historically been reported from Florida, Massachusetts, New York, and North Carolina. EEEV transmission is most common in and around freshwater hardwood swamps in the Atlantic and Gulf Coast states and the Great Lakes region.
Eastern equine encephalitis virus neuroinvasive disease cases reported by state of residence, 2009–2018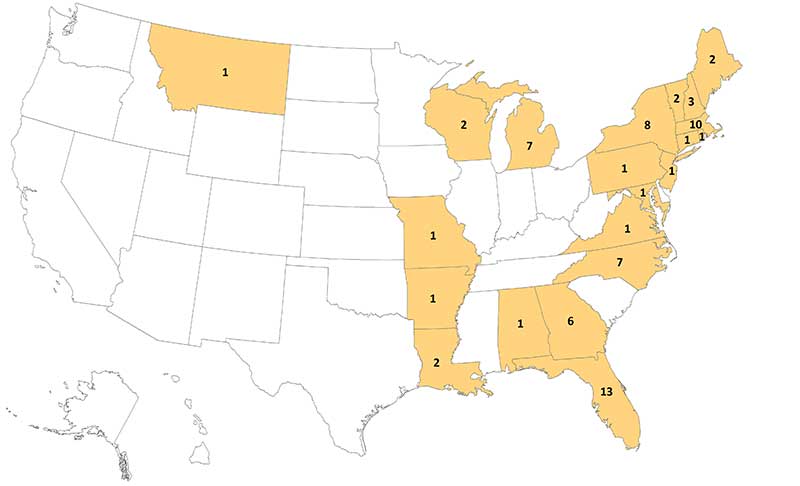 ---
CNN
Thirty-six Massachusetts communities are now at critical risk, 42 are now at high risk and 115 are now at moderate risk for EEE, according to the state health department. Additional cases of the virus have been confirmed in animals this year in Massachusetts: eight horses and one goat.
"Even though temperatures have cooled off, it is not unusual to see human EEE cases confirmed in September. This is why we continue to urge the public to take seriously the threat that mosquitos can pose and to take steps to avoid being bitten."

Dr. Monica Bharel – Massachusetts Public Health Commissioner
---
Centers for Disease Control and Prevention
Prevention recommendations:
Use insect repellent containing DEET, picaridin, IR3535 or oil of lemon eucalyptus on exposed skin and/or clothing. The repellent/insecticide permethrin can be used on clothing to protect through several washes. Always follow the directions on the package.
Wear long sleeves and pants when weather permits.
Have secure screens on windows and doors to keep mosquitoes out.
Get rid of mosquito breeding sites by emptying standing water from flower pots, buckets, barrels and other containers. Drill holes if appropriate so water drains out.