The Influenza Division at CDC collects, compiles and analyzes information on influenza activity year-round in the United States. FluView, a weekly influenza surveillance report, and FluView Interactive, an online application which allows for more in-depth exploration of influenza surveillance data, are updated each week. The data presented each week are preliminary and may change as more data is received.
Information on outpatient visits to health care providers for influenza-like illness is collected through the U.S. Outpatient Influenza-like Illness Surveillance Network (ILINet). ILINet consists of outpatient healthcare providers in all 50 states, Puerto Rico, the District of Columbia and the U.S. Virgin Islands reporting approximately 60 million patient visits during the 2018-19 season. Each week, approximately 2,600 outpatient healthcare providers around the country report data to CDC on the total number of patients seen for any reason and the number of those patients with influenza-like illness (ILI) by age group (0-4 years, 5-24 years, 25-49 years, 50-64 years, and ≥65 years). For this system, ILI is defined as fever (temperature of 100°F [37.8°C] or greater) and a cough and/or a sore throat without a known cause other than influenza. Sites with electronic health records use an equivalent definition as determined by public health authorities.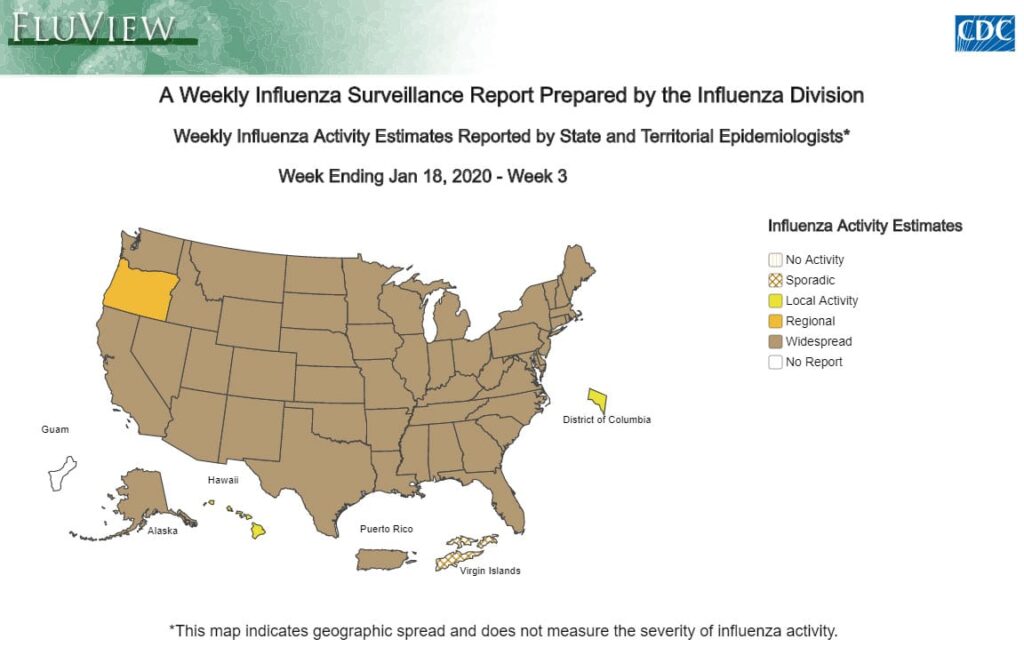 For this reporting period:
CDC estimates that so far this season there have been at least 15 million flu illnesses, 140,000 hospitalizations and 8,200 deaths from flu.
Outpatient ILI and laboratory data remain elevated and increased slightly this week. Some regions are seeing increases in the proportion of influenza A(H1N1)pdm09 viruses compared to influenza B viruses.
Levels of outpatient ILI remain elevated; however, hospitalization rates remain similar to what has been seen at this time during recent seasons and mortality, while low overall, has exceeded the epidemic threshold for one week this season.
Over 50% of influenza positive test results from public health laboratories this season are in children and young adults (<25 years), while only 12% are in adults aged 65 and older. This has resulted in high levels of outpatient illness, but lower levels of hospitalization and death due to influenza. However, influenza can still cause severe disease in children.
15 additional pediatric deaths were reported this week, bringing the total for the season to 54. Influenza B viruses account for 37 of the 54 reported flu-related pediatric deaths this season.
Flu vaccine effectiveness estimates are not available yet this season, but vaccination is always the best way to prevent flu and its potentially serious complications.
Antiviral medications are an important adjunct to flu vaccine in the control of influenza. Almost all (>99%) of the influenza viruses tested this season are susceptible to the four FDA-approved influenza antiviral medications recommended for use in the U.S. this season.
Influenza-Associated Hospitalizations
The Influenza Hospitalization Surveillance Network (FluSurv-NET) conducts population-based surveillance for laboratory-confirmed influenza-related hospitalizations in select counties in the Emerging Infections Program (EIP) states and Influenza Hospitalization Surveillance Project (IHSP) states.
A total of 7,013 laboratory-confirmed influenza-associated hospitalizations were reported by FluSurv-NET sites between October 1, 2019 and January 18, 2020; 4,056 (57.8%) were associated with influenza A virus, 2,914 (41.6%) with influenza B virus, 22 (0.3%) with influenza A virus and influenza B virus co-infection, and 21 (0.3%) with influenza virus for which the type was not determined. Among those with influenza A subtype information, 850 (89.9%) were A(H1N1)pdm09 virus and 96 (10.1%) were A(H3N2).
The overall cumulative hospitalization rate was 24.1 per 100,000 population which is similar to what has been seen during recent previous influenza seasons at this time of year.
The highest rate of hospitalization is among adults aged ≥65, followed by children aged 0-4 years and adults aged 50-64 years.
Among 903 hospitalized adults with information on underlying medical conditions, 91.9% had at least one reported underlying medical condition, the most commonly reported were cardiovascular disease, metabolic disorder, and obesity. Among 228 hospitalized children with information on underlying medical conditions, 46.1% had at least one underlying medical condition; the most commonly reported was asthma. Among 177 hospitalized women of childbearing age (15-44 years) with information on pregnancy status, 27.7% were pregnant.
Additional National and International Influenza Surveillance Information
FluView Interactive: FluView includes enhanced web-based interactive applications that can provide dynamic visuals of the influenza data collected and analyzed by CDC. These FluView Interactive applications allow people to create customized, visual interpretations of influenza data, as well as make comparisons across flu seasons, regions, age groups and a variety of other demographics. To access these tools, visit http://www.cdc.gov/flu/weekly/fluviewinteractive.htm
National Institute for Occupational Safety and Health: Monthly surveillance data on the prevalence of health-related workplace absenteeism among full-time workers in the United States are available from NIOSH at https://www.cdc.gov/niosh/topics/absences/default.html
U.S. State and local influenza surveillance:Select a jurisdiction below to access the latest local influenza information
World Health Organization: Additional influenza surveillance information from participating WHO member nations is available through FluNet and the Global Epidemiology Reports.
WHO Collaborating Centers for Influenza located in Australia, China, Japan, the United Kingdom, and the United States (CDC in Atlanta, Georgia).
Europe: For the most recent influenza surveillance information from Europe, please see WHO/Europe and the European Centre for Disease Prevention and Control at http://www.flunewseurope.org/.
Public Health Agency of Canada: The most up-to-date influenza information from Canada is available at http://www.phac-aspc.gc.ca/fluwatch/
Public Health England: The most up-to-date influenza information from the United Kingdom is available at https://www.gov.uk/government/statistics/weekly-national-flu-reports
Source: U.S. Centers for Disease Control and Prevention