The United States, through the Biological Threat Reduction Program (BTRP), has funded an advanced laboratory in Central Luzon, Philippines, in the city of Tarlac. The laboratory will conduct surveillance and testing on local agricultural samples from in and around the region.
The RADDL can provide an accurate diagnosis of major animal diseases and enable the government to decide quickly on what to do to prevent the further spread of any animal diseases.
Agriculture Secretary William Dar said the facility would help improve the measures against animal diseases that have often affected provinces in the region.
"With this facility, we are positive that we can prevent and hopefully put an end to the most dreaded animal disease of ASF (African Swine Fever) that has paralyzed the country's hog industry for more than a year now, and has threatened to demolish the billion-peso industry," Dar said.
"This RADDL will benefit the province of Tarlac by leading to the ability for rapid submission of samples and a much quicker diagnosis of potential animal diseases," said Dr. Joely T. Ongtangco, Chief of RADDL III. "This lab will also help the province diminish their human rabies cases by means of early diagnosis and post prophylaxis treatment."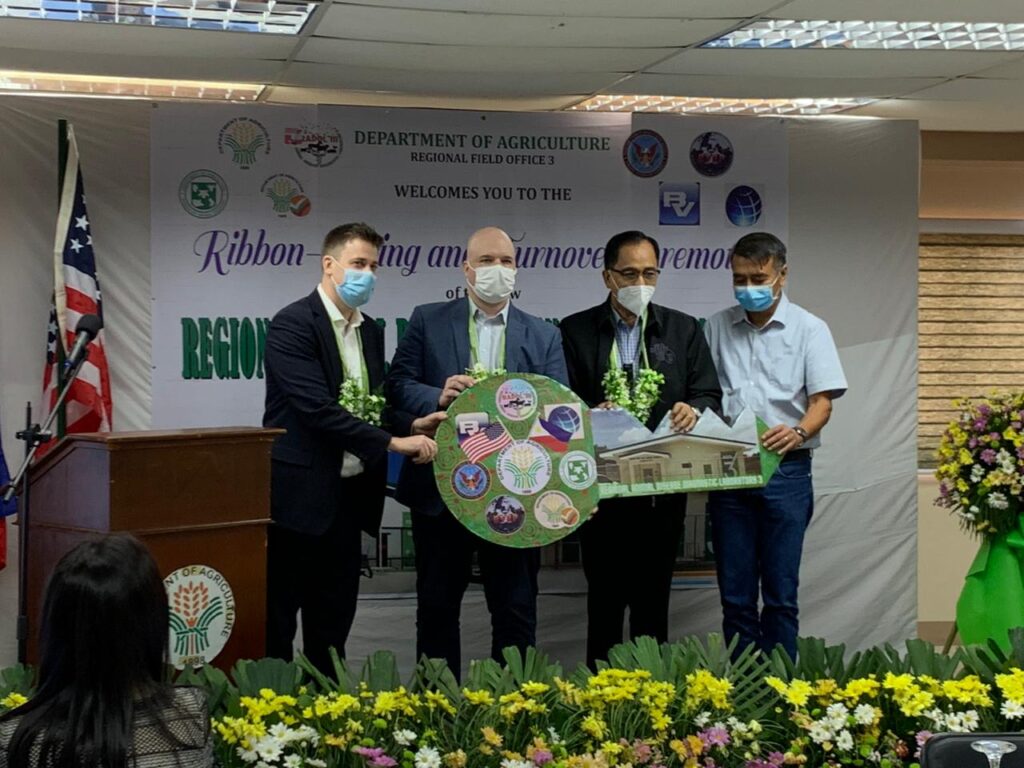 "BTRP is proud that our partnership with the Department of Agriculture has resulted in the completion of a new Regional Disease Diagnostic Laboratory. We are confident that this partnership will strengthen the Republic of the Philippines' ability to detect, diagnose, and report dangerous pathogens affecting the agriculture sector to include priority diseases such as African Swine Fever and Avian Influenza," noted Dr. Ada Bacetty, Defense Threat Reduction Agency BTRP Department Chief. "Since 2016, BTRP has invested approximately $25,000,000 in our robust partnership with the Philippines. Our program has funded the construction of new laboratories across the nation, supported trainings, and provided biorisk management subject matter expertise. These joint efforts improved biosafety and biosecurity practices and will strengthen the Department of Agriculture's preparedness capabilities to prevent and respond to dangerous diseases and combat the negative impacts on the Filipino people. BTRP values this important relationship with the Republic of the Philippines and looks forward to continuing our partnership on these topics in the years to come."
Currently, there are RADDLs in Cagayan Valley Region, Cebu, Cagayan de Oro, General Santos City and Davao. An integrated network increases the nation's ability to identify diseases and curb spreading, promote biosafety and biosecurity culture in biological testing, and provide accurate laboratory data analysis as the basis for formulation of regulations and standards.
A Transboundary Animal Diseases Center is also planned for Central Luzon State University in the Science City of Muñoz in Nueva Ecija.
BTRP is executed by the Defense Threat Reduction Agency.