This model system will aid in understanding the severe disease course of COVID-19—including the virus's interaction with the central nervous system—and will support the advancement of vaccines and therapeutics targeting the virus.
Army scientists, in collaboration with Utah State University, have developed a lethal hamster model for SARS-CoV-2, the virus that causes COVID-19.
Joseph W. Golden, Ph.D. and colleagues at the U.S. Army Medical Research Institute of Infectious Diseases (USAMRIID) collaborated with Zhongde Wang, Ph.D. and the USU team to develop the hamster model.
SARS-CoV-2, the novel coronavirus first identified in Wuhan, China in late 2019, has caused a global pandemic resulting in significant morbidity and mortality in humans throughout the world. COVID-19 disease presentation in humans ranges from asymptomatic virus carrier to fatal systemic disease, and historic efforts are underway to develop medical countermeasures. Animal models that mimic the course of human disease are essential for advancing these countermeasures.
Furthermore, understanding how the virus can produce severe, and potentially deadly, disease in a small percentage of the population is an essential aspect of these studies. While SARS-CoV-2 most typically causes a respiratory infection, more evidence suggests that there may also be a neurological aspect of COVD-19 that is poorly understood, according to Golden, the paper's first author.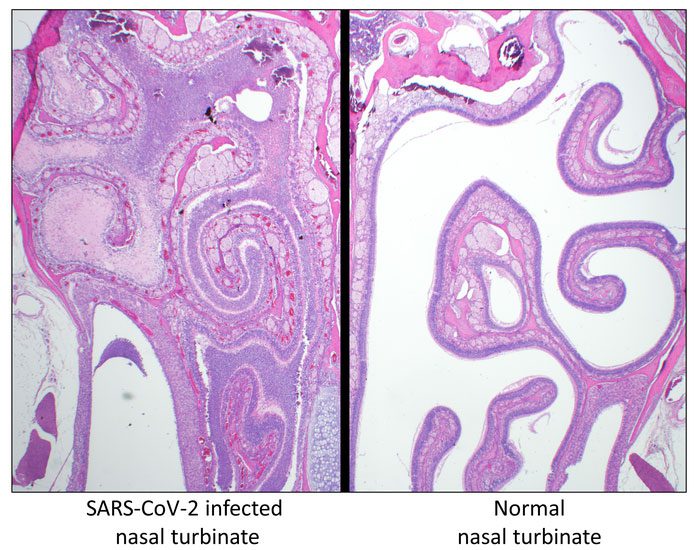 To explore this avenue, USU's team developed a transgenic hamster genetically engineered to express the human angiotensin converting enzyme 2 (ACE2) gene—a key protein used by SARS-COV-2 to enter cells—under the control of a keratin 18 promoter. This promoter increases the level of ACE2 expression to produce a more acute form of the disease, allowing scientists to study infection of the central nervous system, including the brain and spinal cord.
Hamsters, like humans, are naturally susceptible to infection by SARS-CoV-2, in part because they have similar ACE2 proteins at important virus binding sites, the researchers said. Ordinarily, infected hamsters develop respiratory disease; the virus is controlled by the host and cleared; and the animals survive. In this way, the normal hamster system is similar to human disease, which is typically moderate in nature. However, the K18-hACE2 transgenic animals developed acute disease, including weight loss, lung injury, and brain infection, and ultimately succumbed to the disease.
"Working with Utah State University and leveraging their transgenic animal technology, together with USAMRIID's emerging infectious disease research expertise, has allowed us to more comprehensively understand the pathophysiology of SARS-CoV-2," Golden said.
Additionally, the authors found that uninfected control animals in proximity to infected animals also had the virus, indicating that this model system is highly sensitive to SARS-CoV-2 infection and may be ideal for studying viral spread between hosts.
"This hypersensitive hamster model might be particularly useful for variants of concern that cause mild disease in wild type hamsters," said Jay W. Hooper, Ph.D., the paper's senior author.
Hamsters Expressing Human Angiotensin-Converting Enzyme 2 Develop Severe Disease following Exposure to SARS-CoV-2. mBio, 25 January 2022.
ABSTRACT: The rapid emergence of severe acute respiratory syndrome coronavirus 2 (SARS-CoV-2) has created a global health emergency. While most human disease is mild to moderate, some infections lead to a severe disease characterized by acute respiratory distress, hypoxia, anosmia, ageusia, and, in some instances, neurological involvement. Small-animal models reproducing severe disease, including neurological sequela, are needed to characterize the pathophysiological mechanism(s) of disease and to identify medical countermeasures. Transgenic mice expressing the human angiotensin-converting enzyme 2 (hACE2) viral receptor under the control of the K18 promoter develop severe and lethal respiratory disease subsequent to SARS-CoV-2 intranasal challenge when high viral doses are used. Here, we report on SARS-CoV-2 infection of hamsters engineered to express the hACE2 receptor under the control of the K18 promoter. K18-hACE2 hamsters infected with a relatively low dose of 100 or 1,000 PFU of SARS-CoV-2 developed a severe and lethal disease, with most animals succumbing by day 5 postinfection. Hamsters developed severe lesions and inflammation within the upper and lower respiratory system, including infection of the nasal cavities causing marked destruction of the olfactory epithelium as well as severe bronchopneumonia that extended deep into the alveoli. Additionally, SARS-CoV-2 infection spread to the central nervous system (CNS), including the brain stem and spinal cord. Wild-type (WT) hamsters naturally support SARS-CoV-2 infection, with the primary lesions present in the respiratory tract and nasal cavity. Overall, infection in the K18-hACE2 hamsters is more extensive than that in WT hamsters, with more CNS involvement and a lethal outcome. These findings demonstrate the K18-hACE2 hamster model will be valuable for studying SARS-CoV-2.
Funding was provided through the Defense Health Agency; the transgenic hamster lines were established through a National Institutes of Health contract.