Virtual Event
Aberdeen Proving Ground Virtual Career Fair
November 9, 2020

-

November 10, 2020

Virtual Event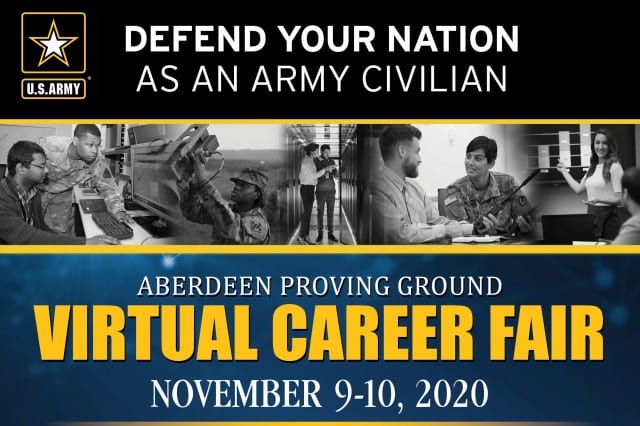 Organizations across Aberdeen Proving Ground will accept resumes during the installation's first virtual career fair November 9 and 10, 2020.
The virtual hiring event, hosted by the U.S. Army Communications-Electronics Command, will provide opportunities for applicants to submit their resumes and other information through an online, mobile recruiting application.
"We are excited for our first ever virtual job fair for the APG community," said CECOM Human Resources Specialist Steve Faulkner. "COVID-19 has forced us all into being more innovative in our approach in human resources, particularly in recruiting."
In an effort to practice social distancing, about half a dozen APG organizations and subordinate commands will use the virtual event to recruit candidates for a variety of career fields in multiple locations. For career opportunities in information technology, law enforcement, engineering, financial management, logistics, communications, just to name a few, applicants will apply for positions from the safety of their personal computers and mobile devices.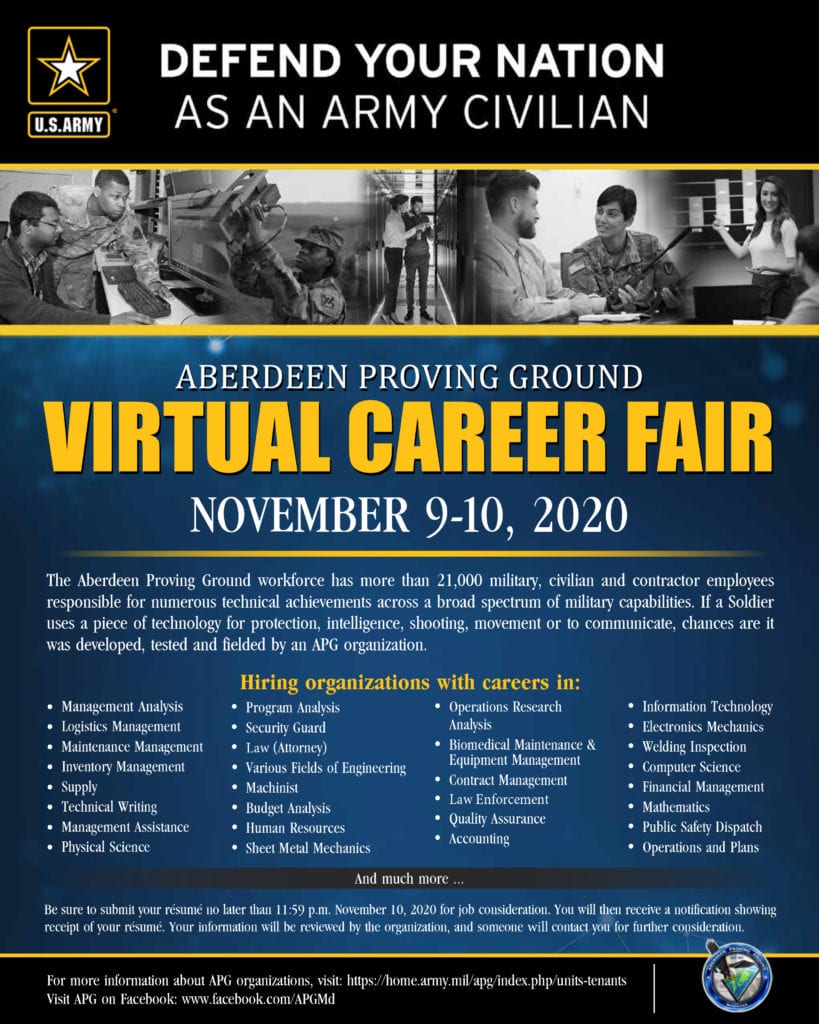 APG is relying on its social media channels to promote hiring opportunities, and to engage potential candidates. Job seekers are encouraged to ask questions and share the event information with friends, to ensure high visibility and maximum participation.
"To meet the mission, hiring organizations must continue to hire the best qualified employees," Faulkner said. "We have opportunities at APG; Tobyhanna, Pennsylvania; Fort Detrick, Maryland; Fort Huachuca, Arizona; Fort Belvoir, Virginia, and many more locations."
Some of the participating organizations include CECOM, the Army 20th CBRNE Command, APG Garrison, Army Futures Command organizations, Army Medical Research Institute of Chemical Defense (USAMRICD), Army Program Executive Office – Command, Control and Communications Tactical and many more.
The APG workforce has more than 21,000 military, civilian and contractor employees responsible for numerous technical achievements across a broad spectrum of military capabilities. If a Soldier uses a piece of technology for protection, intelligence, shooting, movement or to communicate, chances are it was developed, tested and fielded by an APG organization.
The APG Virtual Career Fair event page on Facebook includes information on hiring organizations and how to submit resumes. Learn more: https://www.facebook.com/events/354326535799511