ABRF 2017 – Biomolecular Resource Facilities
March 25, 2017

-

March 28, 2017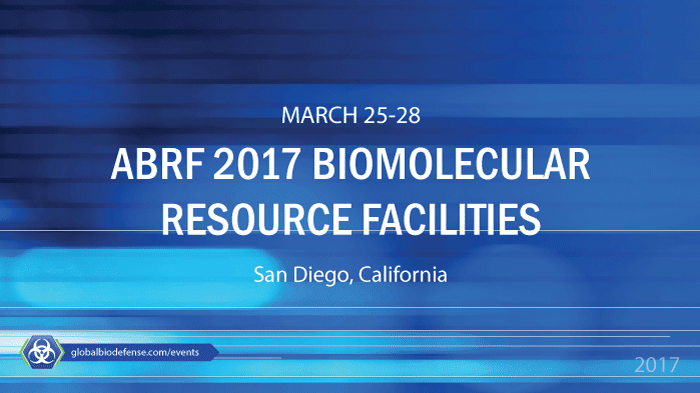 The International Symposium of the Association of Biomolecular Resource Facilities – ABRF 2017 – will be held March 25-28, 2017 in San Diego, California.
Core facilities are uniquely positioned to lead efforts to develop and optimize workflows for the generation of reproducible data, as well as to implement and disseminate these methods among laboratories. Meeting attendees will have the opportunity to be inspired by recent scientific advances, as well as to gain practical knowledge on implementing methodologies today in order to support future discoveries.
Highlighted presentations and session topics include:
Research Development & Core Facilities Infrastructure
NIBIB's Section on High Resolution Optical Imaging
Chemical Proteomics reveals the Target Space of Hundreds of Clinical Kinase Inhibitors
ABRF Genome Editing Research Group (GERG)
Integrated Core Model
Genome Engineering Using CRISPR/Cas9
Imaging Mass Spectrometry
NIH/Federal Policy Updates
PRG quality control, PSRG sequencing of unknown proteins
Management for Scientists
Electron Cryo-Microscopy (Cryo-EM)
Galaxy Platform for Metaproteomic Characterization of Microbiomes
Current Status and Challenges in Lipidomics Based Biomarker Development
Please visit the Association of Biomolecular Resource Facilities 2017 website for more information and to register to attend.