AMSUS 2017 Society of Federal Health Professionals
November 28, 2017

-

December 1, 2017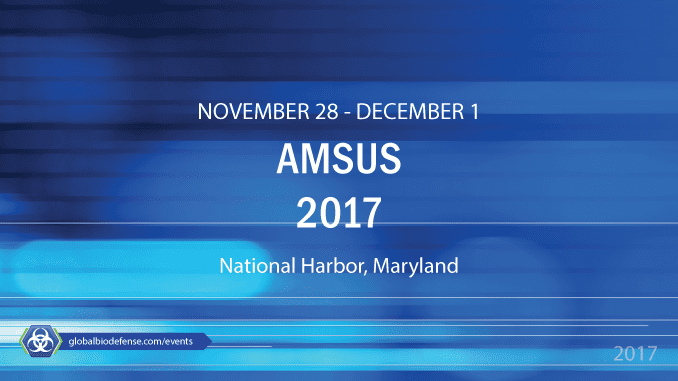 The Society of Federal Health Professionals' AMSUS 2017 Annual Continuing Education Meeting will take place 28 Nov – 1 Dec 2017 in National Harbor, Maryland.
This year's theme is Force Health Protection: From Battlefront to Homefront. Participants will be able to share best practices, alternative care methods for local, regional, and international medical conditions, discuss evidence-based research, and explore inter-professional perspectives from all medical disciplines.
Highlighted sessions include:
Coordinating Deployment and Readiness of the US Public Health Service
ASPR's Division of International Health Security
Public Health Service Pharmacy Updates
CDC's New Global Rapid Response Team: What We Do, Where We've Been
Manage the Next Epidemic Based on Lessons Learned from the Ebola Outbreak in Western Africa
Phage Therapy in Military Medicine: Concept and Preliminary In-Vivo Results
Center for Global Health Engagement's Lines of Efforts to Support GHE
Strategic Perspectives from the DoD Global Health Engagement Council
VHA/DoD GME Pipeline: How Can We Collaborate
CSTARS Baltimore Research on Aeromedical Evacuation-Relevant Hypobaria, Traumatic Brain Injury, Hemorrhagic Shock, and Sepsis
Please visit the AMSUS 2017 website for more information and to register.