Biological Weapons Convention Meeting of States Parties 2017
December 4, 2017

-

December 8, 2017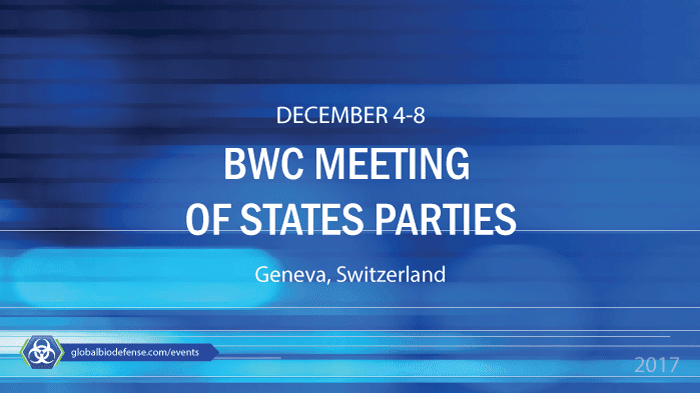 In accordance with the decision of the Eighth Review Conference (RevCon), the 2017 Meeting of States Parties of the Biological Weapons Convention (BWC) will take place from 4-8 December 2017 in Geneva, Switzerland.
The Meeting of States Parties will be chaired by Ambassador Amandeep Singh Gill of India, and Ambassador Michael Biontino of Germany and Ambassador Juraj Podhorský of Slovakia will serve as Vice-Chairmen. In accordance with the decision of the Eighth RevCon, the meeting will seek to make progress on issues of substance and process for the period before the next Review Conference, with a view to reaching consensus on an intersessional process.
The provisional agenda and the provisional program of work for the Meeting of States Parties are available in all official languages as documents BWC/MSP/2017/1 and BWC/MSP/2017/2.
Please visit the Biological Weapons Convention website for more information.
Editor also recommends: