Bacillus ACT 2017
October 1, 2017

-

October 5, 2017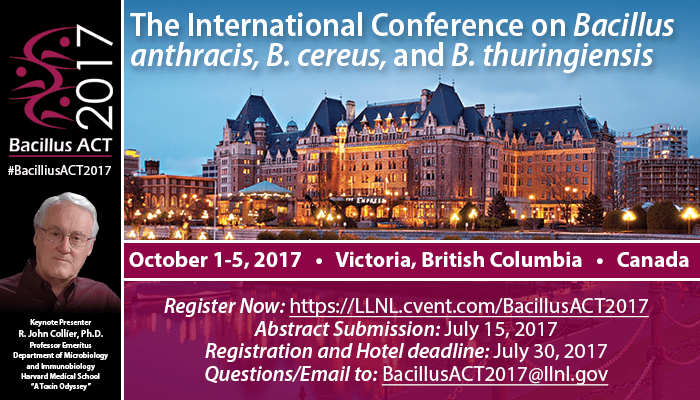 The 8th International Bacillus ACT Conference will be held October 1-5, 2017 in Victoria, British Columbia.
This bi-annual conference attracts scientists and researchers from all over the world who work on Bacillus anthracis, the causative agent of anthrax, and B. cereus and B. thuringiensis, two closely related bacillus species.
World-renowned scientists will present their latest findings from studies of genomics, cell wall and spore structure and function, gene regulation, sporulation, germination, toxins, bacteria-host interactions, epidemiology, and ecology of these species.
In addition, experts working on rapid diagnostics, decontamination, vaccine development, therapeutics, and general physiology will be participating in this conference.
For more information and to submit an abstract, please visit the conference website at: https://LLNL.cvent.com/BacillusACT2017. Interested scientists are welcome to contact the conference coordinator, Stacy Castro at 925-424-2797 or castro19@llnl.gov