NCT USA 2017
September 19, 2017

-

September 21, 2017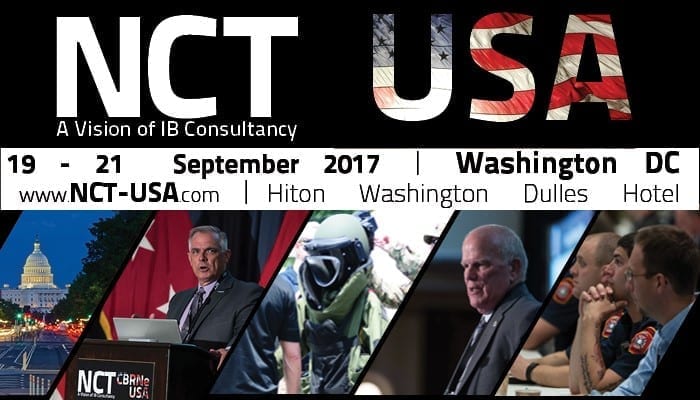 IB Consultancy's NCT USA 2017 conference will be held 19-21 September 2017 in Washington, D.C.
This leading Chemical, Biological, Radiological and Nuclear (CBRN) and Explosives Ordnance Disposal (EOD) and demining event series is back for its 3rd edition at the Hilton Dulles.
NCT USA will be opened by a live CBRNe Capability demonstration by the Fairfax County Police Bomb Squad, the Fairfax Fire & Rescue Hazmat and other agencies, followed by two days of exhibition, conferences and targeted workshops (for instance a workshop on "CBRN Medical Countermeasures and Diagnostics Today and Tomorrow" by JPEO-CBD) on CBRN/EOD/C-IED and demining defense organization and response.
Highlighted speakers include:
Mohamed Nazir Alhakim, Secretary General, National Coalition of Syrian Revolution and Opposition Forces, Syria
Douglas Bryce, Joint Program Executive Officer for Chemical And Biological Defense (JPEO-CBD), USA
Gen. William King, Former Commander, U.S. Army 20th CBRNE Command, USA
Steve Cichocki, Program Manager, CBRN Response, United States Northern Command (USNORTHCOM), USA
Jesus Cuartas, Branch Chief Of Response Operational Planning, Federal Emergency Management Agency (FEMA), USA
Matthew Sieber, Senior Hazmat Technician, Los Angeles Police Department (LAPD), USA
Col Benjamin W. Genthner, Commander, 24th Weapons of Mass Destruction Civil Support Team New York City, USA
Michael Deckert, Business Area Manager, Chem-Bio Defense, Src, Inc., USA
Claudia Gärtner, CEO, Microfluidic Chipshop, USA
Thomas Chenworth, Hazmat Unit, District of Columbia Fire and Emergency Medical Services Department, USA
The Non-Conventional Threat (NTC) series is globally established and known for prime regional CBRNe summits in Asia, Asia-Pacific, Europe, and the Middle East.
Please visit IB Consultancy's NCT 2017 website for more information and to register.