Virtual Event
BARDA Industry Day 2020
October 27, 2020
Virtual Event
Free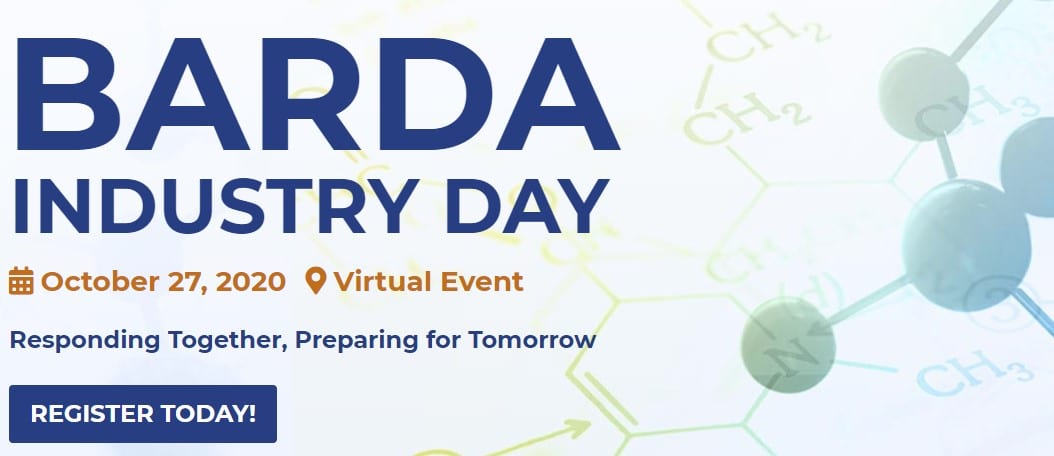 The Biomedical Advanced Research and Development Authority (BARDA) will host a virtual Industry Day on October 27, 2020 to learn about U.S. Government medical countermeasure priorities, interact with the BARDA and HHS ASPR teams, and network with public and private sector colleagues.
Featured speakers and breakout presenters will address the many ways BARDA is actively addressing the current COVID-19 pandemic crisis and forging new partnerships while remaining vigilant and prepared for any new threats that may arise.
BARDA Industry Day 2020 will include breakout sessions, virtual networking opportunities, and an address by Acting BARDA Director, Dr. Gary Disbrow. Lightning Talk sessions will be available to selected applicants, which provide an opportunity to present their technologies to an audience of BARDA specialists, industry partners, and potential collaborators.
The conference is open to anyone in the public who wishes to attend. The content is mainly geared towards healthcare research professionals and medical countermeasure developers, government agency staff, pharmaceutical professionals, and scientific researchers and academics.
The breakout sessions and plenary discussions will be available for viewing on the conference website after the event
Learn more: http://bit.ly/bardaindustryday2020
Editor's Update 31 Aug: The Lightning Talks application submission period is now closed. Event registration is still open.