Biodefense World Summit 2019
June 17, 2019

-

June 19, 2019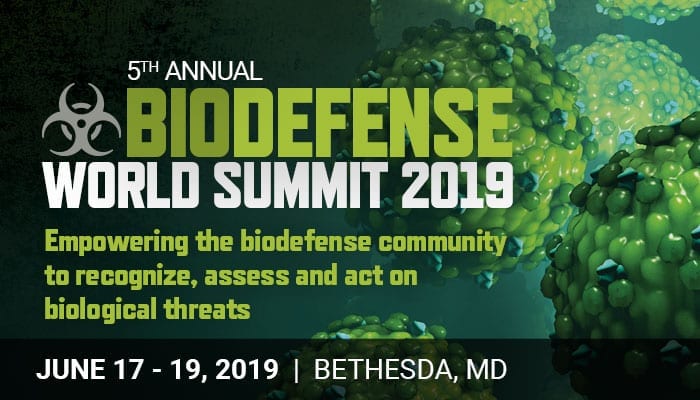 Cambridge Healthtech Institute's (CHI) 5th Annual Biodefense World Summit 2019 is a dynamic conference for the entire biodefense community: technology providers to policy makers at industry, government and academic institutions. The event will be held on June 17-19, 2019 at the Hyatt Regency in Bethesda, MD.
Conferences:
Biodetection Technologies: Biothreat and Pathogen Detection
Biodetection Technologies: Point-of-Care for Biodefense
Biosurveillance Integration: Integrated Management of Threats to Public Health and Safety
Short Courses:
Sample Prep Technologies for Pathogen Detection
Commercializing the Next Generation of Biodefense Tools and Technology
Hear 50+ strong, technical presentations & panel discussions by FBI Laboratory, InDevR Inc., Lawrence Livermore National Lab, Los Alamos National Laboratory, TetraCore, Inc., U.S. Army Medical Research Institute of Chemical Defense (USAMRICD), U.S. Department of Homeland Security, Walter Reed Army Institute of Research– just to name a few.
Visit the event website for full details and to register, or call CHI at +1 781-972-5400.
For questions, email reg@healthtech.com.