CBRNe Convergence 2017
November 6, 2017

-

November 8, 2017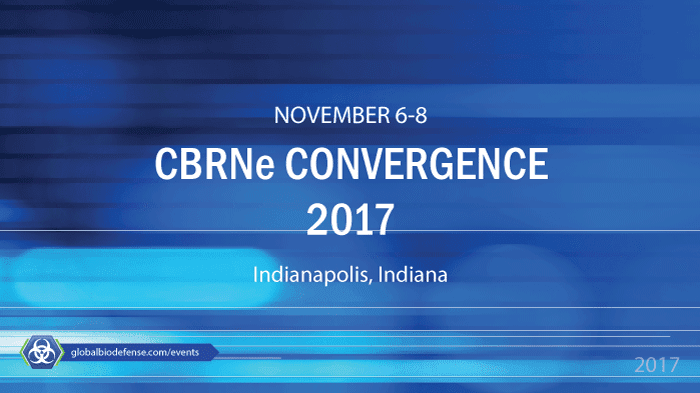 The CBRNe Convergence 2017 Congress & Exhibition will be held November 6-8, 2017 in Indianapolis, Indiana.
Organized by the experienced team from CBRNe World magazine, this 10th iteration draws leading experts and global stakeholders in CBRNe and hazmat response.
Attendees will hear how recent research, equipment development, and lessons learned are improving defense and response capabilities across the community.
Highlighted speakers include:
Gregory Sayles, Director, EPA's National Homeland Security Research Center
Brigadier General Blankenhorn, 76th Army Reserve, Operational Response Command
Samantha Ollerton, Senior Technical Director & Forensic Expert
Jarrad Wagner, Professor of Forensic Sciences at Oklahoma State University Center for Health Sciences
Ron Humbert, Indianapolis Metropolitan Police Department, Bomb Squad Commander
Brad Geeslin, Program Manager, WMD Directorate Training Unit, FBI
Maarten van Vliet, NCO / Senior Instructor at Defence CBRN Centre, the Netherlands
Steve Tweddle Sergeant with the Toronto Police CBRNE Response Team
Martin Davey, IT Coordinator Special Operations, Hazmat-CBRNE Program Firefighter, Ottawa Fire Services
Sergeant Major Machiel Koopmans, Advice & Assistance Counselor CBRN Response Peloton ICMS
Ed van Zalen, Programme Manager CBRN, Netherlands Forensic Institute
Gareth Roberts Team leader, CBRNE Covert Assessment Team, South Wales Police
Colonel Henry Neumann, Commander of the Bundeswehr CBRN Defence Command
Roberto Biselli, Chief of the Italian Air Force Aeromedical Isolation Team
David Fraser, Product and Marketing Manager, BBI Detection
Ryan Gregerson, Technical support group, Biofire Defense
Michael Dickens, Business Line Manager Applied Genomics, Battelle
Rob Wilson, Sergeant, National CBRNE Response Team Coordinator, RCMP
Robert P Chilcott, PhD, CBiol, FRSB, FRSC. Chair of Toxicology, University of Hertfordshire
Ray Zilinskas, Director at the Chemical and Biological Weapons Nonproliferation Program at the James Martin Center for Nonproliferation Studies, Middlebury Institute of International Studies at Monterey, California
Sermet Sezigen, Assistant Professor Sermet Sezigen, Lecturer, University of Health Sciences, Dept.Of Medical CBRN Defense, Ankara, Turkey
In addition to the pre-conference workshop, two day streamed conference of over 35 expert speakers, poster sessions and accompanying exhibition of the latest CBRN, EOD and hazmat technology, the venue benefits from a large outdoor space where attendees can view a dynamic demonstration of US CBRNe and hazmat capabilities as well as a static display of equipment and systems from a range of agencies involved in responding to a CBRNe and hazmat threats.
Growing together, staying distinct. Creating flexible CBRNE response teams for the All Hazard threat. Register now by visiting CBRNe World's CBRNe Convergence 2017 website.
Global Biodefense is an official media partner of CBRNe Convergence 2017.