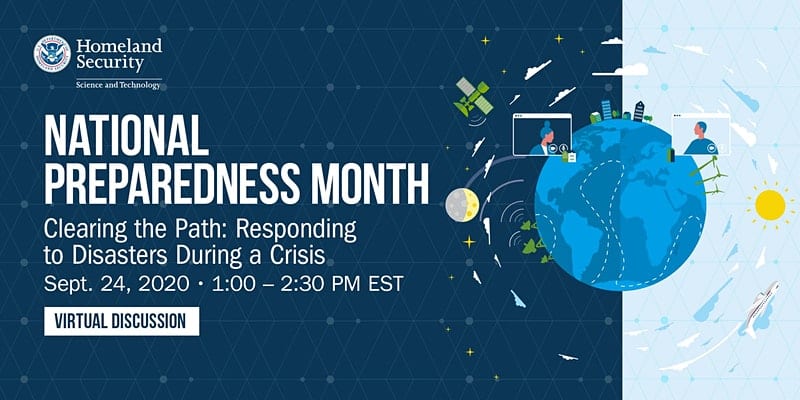 The Department of Homeland Security (DHS) Science and Technology Directorate (S&T) is convening a diverse group of public-private partners to present, Clearing the Path: Responding to Disasters During a Crisis, a virtual discussion for National Preparedness Month, on September 24, 2020, from 1:00 p.m. – 2:30 p.m. EST.
When responding to natural disasters during a crisis, such as the COVID-19 pandemic, emergency responders, hospitals, and supply chains are working at capacity, while the next hurricane, wildfire, or flood could be around the corner. For communities to adapt and respond to these compounding pressures, they must understand how technologies can inform risk-based decision making in areas of neighborhood health monitoring, supply chains, evacuation planning, crisis communications, and information sharing among front-line responders. Innovation in predictive analytics, modeling and simulation, and mobility offer new solutions to tackle immediate challenges and prepare for emerging threats.
Topics of this virtual discussion will include:
Understanding how public-private partnerships are accelerating new solutions and business models to prepare for day-to-day emergencies and a national crisis.
Educating community leaders on how new science and technology applications are enhancing resilience and protecting life-line systems and networks.
With increased frequency of new threats, examining what new tools and policies are available to incentivize collaboration among government, industry, and foundations.
With communities investing in automated and digital technologies, asking why this is important and how predictive data sets are changing the way we think about risk and preparedness.
Speakers include:
Duane Caneva, Chief Medical Officer, DHS Countering WMD Office
Ted Smith, Ph.D., Wastewater Based Epidemiology, Professor of Environmental Medicine, University of Louisville and Advisor to Louisville Mayor, Greg Fischer
Catherine Cross, Deputy Under Secretary, DHS Science and Technology Directorate (S&T)
David Corman, Program Director, Cyber-Physical Systems and Smart and Connected Communities, National Science Foundation
Michel Leonard, Vice President and Senior Economist, Insurance Information Institute
Moderator: David Alexander, Director of Resilience Research and Partnerships, DHS S&T
To register for the National Preparedness Month Virtual Discussion: Clearing the Path: Responding to Disasters During a Crisis, please register here.