Virtual Event
Just Breathe: ARDS Therapeutics Pitch Event
July 24

-

July 28

Virtual Event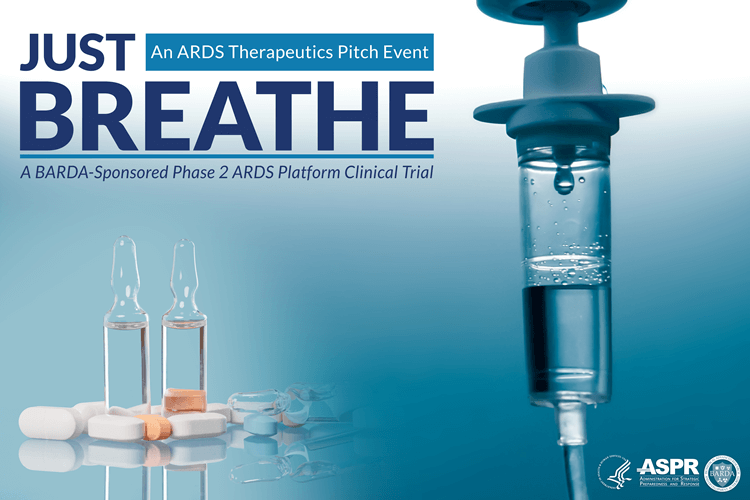 A BARDA-Sponsored Phase 2 ARDS Platform Clinical Trial
BARDA will host 'Just Breathe – An ARDS Therapeutics Pitch Event' on July 24-28, 2023 to support development of threat-agnostic and host-directed therapeutic candidates to address acute respiratory distress syndrome (ARDS). The event will be held in a virtual format.
The Biomedical Advanced Research and Development Authority Influenza & Emerging Infectious Diseases Division plans to support a randomized, double-blinded, placebo-controlled, multi-center U.S. Phase 2 platform clinical trial that investigates multiple immune modulators or other host-directed therapeutics in hospitalized adult patients with acute respiratory distress syndrome (ARDS). In this trial, BARDA will evaluate the safety and efficacy of novel threat-agnostic and host-directed therapeutics that could address ARDS caused by known or unknown health security threats such as pandemic influenza, COVID-19, other emerging infectious diseases, and chemical, biological, radiological, and nuclear (CBRN) incidents.
More information about the design of the phase 2 ARDS platform clinical trial is available in the draft protocol synopsis under the BAA Area of Interest (AOI) 9.7 (closed March 14, 2023).
To participate in the Just Breathe Pitch Event, drug sponsors will need to submit the following:
Slide deck containing the required information about the proposed therapeutic candidate
A current Investigator's Brochure (IB) for the proposed therapeutic candidate
Submission cover page form
Interested drug sponsors will have the opportunity to submit questions and receive feedback from BARDA on their initial slide deck submissions for revision and submit the updated slide deck for for the event.
The final (revised) slide deck submission and the IB will be evaluated by a scientific review process based on pre-specified criteria outlined in the presentation template. Drug sponsors with most competitive submissions will be invited to present virtually about their products and attend a live Q&A in front of an interagency review panel.
Up to three phase 2-ready therapeutic candidates representing different mechanisms of action will be selected for inclusion in the planned BARDA-sponsored phase 2 ARDS platform clinical trial.
Please visit BARDA's Influenza & Emerging Infectious Diseases Division website for additional program information and visit the Just Breathe – An ARDS Therapeutics Pitch Event page for submission instructions, provided templates, evaluation criteria, and a detailed timeline. All pre-submission inquiries and submissions should be submitted to IEIDD_Tx@hhs.gov. Critical due dates for this pitch event are listed below:
Final day to submit questions: May 26, 2023, by 5 p.m. EDT
Initial slide deck submission: June 2, 2023, by 5 p.m. EDT
Final (revised) slide deck submission: June 30, 2023, by 5 p.m. EDT
Pitch event presentation invitations to drug sponsors with the most competitive therapeutic candidates: July 10, 2023
Just Breathe – An ARDS Therapeutics Pitch Event: July 24-28, 2023
Source: Biomedical Advanced Research and Development Authority